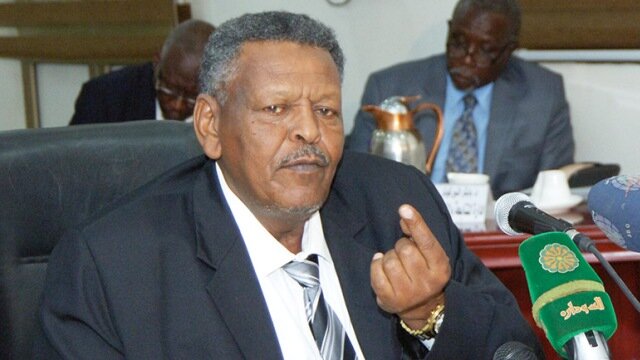 Khartoum – Council of Ministers has endorsed, in its regular meeting yesterday, the policies presented by Minister of Investment and Chairman of the Economic Sector,
Mubarak Al-Fadil Al-Mahdi to restore the economic balance after lifting of the US sanctions.
The meeting was chaired by First Vice President, National Prime Minister, 1st Lt. Gen. Bakri Hassan Saleh.
Cabinet's spokesperson, Dr. Omer Mohamed Saleh said in press statements that the policies aimed at increasing the Central Bank of Sudan storage of gold and preventing its smuggling. The CBOS will also set arrangements for the stability of exchange rate and determining the methods of payments to guarantee improvement in exportation revenues though the Central Bank of Sudan. The policies also aim at establishing channels to receive the expatriates' remittances for the Diaspora besides along with absorbing the extra liquidity from the economy and directing the commercial banks to give priority for productive sectors and exportation.
According to the new polices, the Central Bank of Sudan will be the sole purchaser of gold according to fair and preferable prices.
The cabinet endorsed the matrix and directs determining the negative list of commodities and studying the impact on the general revenues of the country.
The Council of Ministers affirmed the existence of the laws that ban foreigners from practicing internal trade or exchange rate.
The cabinet formed a committee to prepare the details of the contents of the matrix under the chairmanship of State Minister at the Council of Ministers , Jamal Mahmoud and the membership of State Minister at the Ministry of Finance, Dr. Abdul Rahman Dirar , Deputy Central Bank of Sudan Governor, Finance Ministry Undersecretary, Mona Abu Haraz, Directors of Taxation, Customs, undersecretaries of Industry, Trade, Minerals ministries besides the Director of Economic Security to be presented to the Council of Ministers for implementation within one month as of today.
Meanwhile, the Council of Ministers approved in principle the draft bill for organizing the dealing with foreign currency (2017 amendment) presented by the Governor of the Central Bank of Sudan, Hazim Abdul Gadir.
According to the new bill the punishment in illegal dealing in foreign currency is raised from three to ten years besides any additional punishments.
---
Islamic Alliance Defense Ministers Announce Solidarity to Fight Terrorism

Mahmoud Calls for Denouncing Violence and Encountering Extremist Ideas

Next >