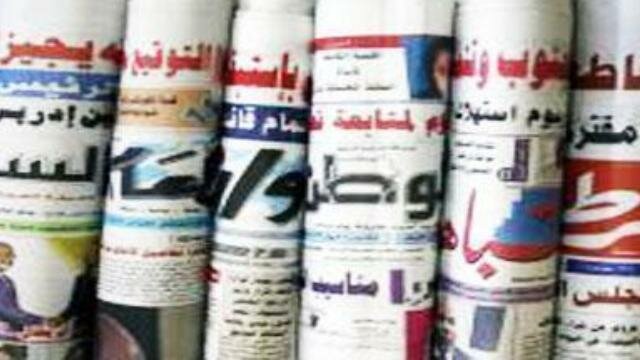 Al-Sudani

* PCP Reveals Foreign Plots to Secede Darfur and the Two Areas.
* Expectations of Continuous Decline of Exchange Rate.
* Al Bashir Chairs Council of Ministers Meeting on Exchange Rate.
* Decline of Edible Oil Prices in Khartoum Markets.


Akhbar Al-Youm
* Sudan and Ethiopia Are Waiting Egypt's Stance to Resume GERD Talks.
* RSF Fully Controlled the Stronghold of Musa Hilal Troops in Mustariha.
* Cabinet Endorses Foreign Currency Dealings Draft Law.
* Moscow Announces New Level of Defence Cooperation with Sudan.

Assayha
* CBOS Bans Financing Local Trade.
* Finance Ministry Signs Agreements to Construct Silos in Sudan.
* Parliament Accuses Egypt of Planning to Change the Identity of Halayeb.
* EU Delegation Arrives in Khartoum to Discuss Press Freedoms in Sudan.

Al-Youm Al-Tali

* Khartoum: Cairo Rejected Endorsement of Water Rights of 1959.
* Parliament: Cooperation with Russia Is Not on the Account of China.
* Presidential Aide Affirms Commitment to Support S. Sudan Refugees.
* Foreign Ministry Lauds the Success of Arab Standardization Forum.


Akhir Lahza
* Islamic Alliance Defence Ministers Meet in Riyadh.
* Khartoum State Endorses 2018 Budget.
* US Pledges to Press on Armed Groups to Join Peace Process.
* CBOS Issues Circular on Foreign Currency Resources.

Al-Ray Al-Aam
* SAF Reveals Joint Military Drills with Qatar, UAE Next December.
* Farmers Receive Profits of Genetically Modified Cotton Revenues.
* Ibrahim Mahmoud Discuses with Journalist Union the Press Issues.
* Parliament Speaker Receives Invitation to Visit China.

Al-Intibaha
* Musa Hilal Arrested
* Second Meeting in the Republican Palace to Control Exchange Rate.
* CBOS Decides to Ban Purchasing Raw Gold.
* US Team Arrives in Kadugli to Study Washington Humanitarian Proposal.

Al-Sahafa
* 400 Migrants Stranded in Libya.
* AU Sends Amira Al-Fadil to Investigate Slave Trade in Libya.
*  Cabinet Endorses Economic Policies Matrix.
* National Unity Parties Intend to Nominate Al Bashir for another Presidential Term in 2020.
---
Sudan Committed to Combating Human Trafficking and Preventing use of...

Famers' Associations Role in the Rehabilitation of Gum Arabic Belt in...

Next >