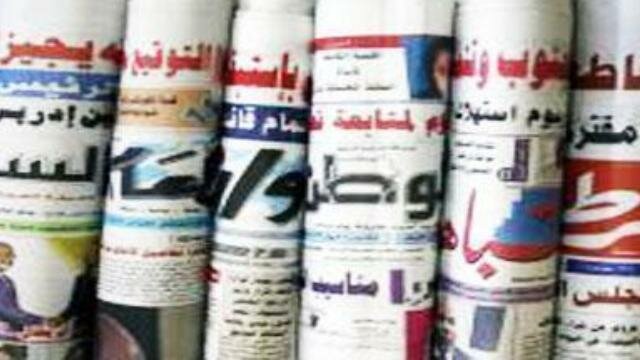 Al-Sudani

* Finance Ministry Expects the Flow of Huge Deposits.
* Government: No Intention to Pull out Sudanese Troops from Yemen.
* Sudan: We Will Continue in the Arab Alliance in Yemen.
* Hilal Beats Merreikh 2-0 in the Sudanese Premier League.


Akhbar Al-Youm
* Deputy Chief of Staff Attends EASF Drills in the Red Sea.
* PCP Affirms Readiness to Amend Laws According to National Dialogue Outcomes.
* Kassala: Strict Measures to Prevent Human Trafficking.
* 910 Metric Tons of Humanitarian Assistance to South Sudan.

Assayha
* PCP Accuses NCP of Downplaying the National Dialogue Outcome.
* Troika Denies Distancing Machar from IGAD Consultative Forum.
* Ahmed Bilal Pledges to End DUP Disputes,
* Consumer Protection Society Insists of Placing the Badge of Genetically Modified Edible-oil.

Al-Youm Al-Tali

* Al Bashir; We Keep Good Relations with Riyadh and Doha.
* Industrial Chambers Calls on Parliament to Stop Increase of Electricity Fees.
* Presidential Aide Denounces the Terrorism Attack on a Mosque in Egypt.
* Educational Experts Call for Integrating the Disabled Children.


Akhir Lahza
* CBOS Bans Banks from Financing Local Trade.
* Bakri Attends Firearms Control Conference.
* Darfuri Movement Hand Its Heavy and Light Weapons.
* Human Resources Reveals the Training of 1678 Teaching Staff,

Al-Ray Al-Aam
* NCP Calls for Confronting the Extremism Ideas.
* PCP Might Coordinate with the NCP in 2020 Elections.
* Political Parties Praise the Outcomes of Al Bashir's Visit to Russia.
* Zakat Budget for 2018 Amounts to More than SDG3.5 Billion.

Al-Intibaha
* Al Bashir: US Plan to Divide Sudan into 5 Countries.
* Moscow Agrees to Build a Military Base at the Red Sea.
* Amin Hassan Omer Distances Al Bashir Acceptance to Be Reelected in 2020.
* CBOS Issues Several Polices and Decision Today.

Al-Sahafa
* Al Bashir Reveals Details on Military Agreement with Russia.
* UNAMID Envoy Lauds the Steps of Firearms Collection.
* President Al Bashir to Attend School Tournament Concluding Session.
* Closing Borders Crossing in Kassala to Curb Human Trafficking.
---
Daily Arabic Newspapers Headlines Saturday, 25th November, 2017

Next >