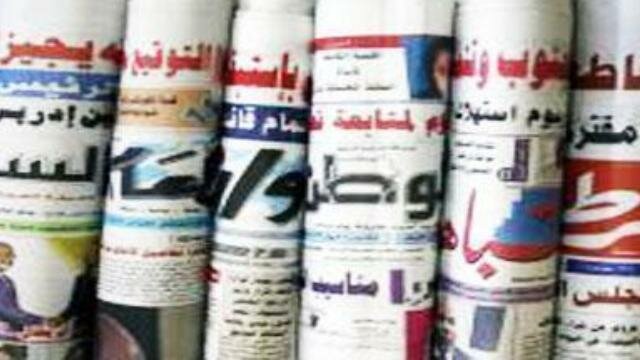 Al-Sudani

* Al Bashir: Who Gave Trump the Right to Grant Al-Quds to the Jews?

* NISS Submits Complaint against Sudanese Communist Party to Council of Political Parties.
* Government Studies Cultivation of 2.4 Million Acres in Wadi Al-Hawad.
* Parliament Summons Minister of Minerals on Agreements.


Akhbar Al-Youm
* 1000 Cancer Cases Registered Daily in Khartoum.
* Atta: Servicing the Sudanese People Is an Honour to the NISS.
* MPs Call on the Government to Stop Exportation of Sorghum.
* Washington Calls on Sudan to Cancel the Article of Indecent Dress.

Assayha
* Northern State Citizens Announce Support to Al Bashir for Additional Presidential Term.
* Arabic Language Council Celebrates the International Arabic Language Day.
* NCP Nominates Hashim Abubakr Al-Jaali for Bar Association Presidency.
* Clashes Resumed between Juba and Machar Troops, 18 Soldiers Killed.

Al-Youm Al-Tali

* Al Bashir Pledges to Care for Ahli Football Club of Meroe.
* Customs Authorities Destroy 9,600 Kilogrammes of Cocaine.
* Qatari Chief of Staff to Visit Khartoum Next Week.
* IGAD Warns against the Failure of Addis Ababa Peace Conference on South Sudan.

Al-Mijhar
* Electricity Minister Announces Early Preparations for Next Summer Season.
* MPs Lead an Initiative to Avail Conducive Environment for Peace.
* Ghandour to Participate in IGAD Executive Council Meeting.
* Higher Education Ministry Announces Increase in Universities' Seats.
Al-Ray Al-Aam
* 150 German Investors to Arrive in Khartoum Next Month.
* Nuba Mountains and Blue Nile MPs Reject Self-determination.
* Mutaz Reveals Doubling Electricity Power to 4500 Megawat by 2020.
* Animal Resources Ministry Pledges to Improve Leather Production

Al-Intibaha
* MP Calls for Making Al Bashir King of Sudan for Life.
* Parliament Summons Minister of Information of Confiscation of Newspapers.
* PCP Slams Government, Starts Campaign to Cancel Public Order Act.
* NCP: Firearms Collection Campaign Paved the Way for Development.

Al-Sahafa
* Prime Minister Reiterates Commitment to Implement the National Dialogue Outcomes.
* NISS Celebrates Its Annual Military Parade.
* Authorities Suspends Umra Procedures.
* UNAMID Chief in Nyala Lauds the Efforts of RSF.
---
Daily Arabic Newspapers Headlines Monday,17th December, 2017

Next >