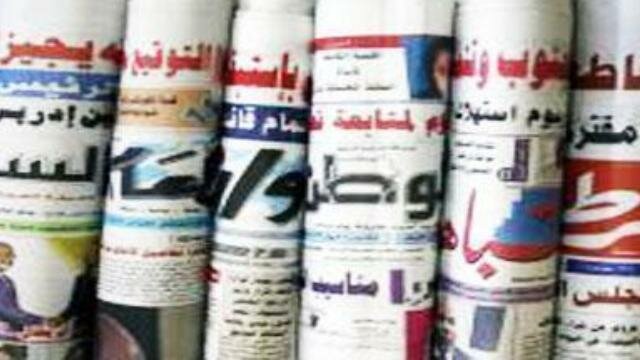 Al-Sudani

* Youth Around the President Initiative; No Alternative for Al Bashir Except Al Bashir!

* Parliament Summons Tourism Minister on the Theft of Sandalwood from the National Museum.
* Vice President: National Dialogue Outcomes Is the Biggest Achievement after Independence.


Akhbar Al-Youm
* PCP and SRF Leaders Meet in Bonn.
* CBOS Announces the New Monetary Policies.
* Launching of New Flourmills in Northern State Next Year.
*  Presidential Aide Addresses African Youth Union General Conference.

Assayha
* Deal to Import 300 Out-of-service Buses from Saudi Arabia!!!
* Defence Ministry Admits Security Defects in Khartoum Airport.
* Three Students Injured in Clashes between NCP and PCP Students in Sudan University.
* South Darfur Government to Construct 800 Housing Units for IDPs.

Al-Youm Al-Tali
* Hassabo: Tribalism is Backwardness.
* Tabitha Boutros Emphasizes the Importance of Trade Unions in Supporting the Economy.
* Kuwaiti Company Plans to Invest In Transport Sector.
* Sudanese/Egyptian Cultural Festival in Cairo by the End of January.

Al-Mijhar
* Details on the Meeting of Ali El-Haj, Jibril, and Minnawi in Bonn.
* Ghandour Affirms the Necessity of Resolving the Disputes over GERD.
* Khartoum State to Construct 23 Flyovers, 9 Bridges to Resolve Traffic Jams.
* Bakri Launches the Electronic Invoice.

Al-Ray Al-Aam
* Council of Minister Announces Package of Procedures to Reduce Expenditure.
* Government: Resumption of Talks Subject to SPLM-N Reconciling Its Status.
* Agreement to Import 500 Buses from Qatar.
* Authorities Destroy 10 Tons of Expired Medicines.

Al-Intibaha
* Two JEM Leading Figures Killed in an Ambush in South Sudan.
* Cabinet Approves 2018 Budget after 9 Hours of Stormy Session.
* Defence Ministry: Parliament Agreed on the Increase of Domestic Air Fares.
* First Vice President Arrives in Eritrea.


Al-Sahafa
* MPs Criticizes the Weak Strategy of the Civil Aviation Authority.
* President of Rwanda Arrives in Khartoum.
* Agreement to Rehabilitate 12 Airports through Russian Funding.
* Six Aid Workers Disappeared in South Sudan.
---
Sudan's Infrastructure Positive Impact on Africa (2)

Next >