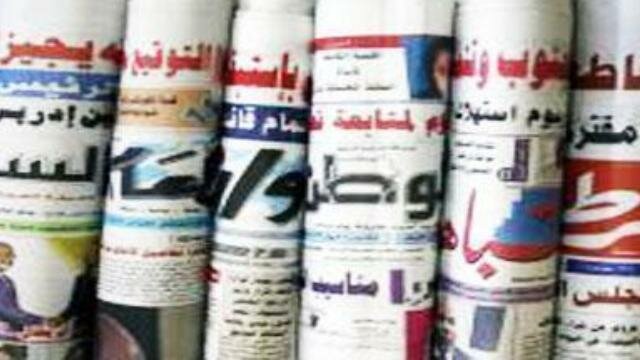 Al-Sudani

* Auditor General Tables His Report before the parliament.
* RSF Surround Saraf Umra Area in Darfur.
* Ghandour: We Are Not In Hostilities with Iran and We Severed Our Relation in Support to Saudi Arabia.
* International Cooperation Ministry Reviews 21 Agreement s with UN Agencies.

Akhbar Al-Youm
* Presidency Intervenes to Stop the Collapse of the Sudanese Pound.
* US Announces Concern over Training Journalists.
* MP Reveals Reasons of the Rise of Exchange Rate.
* Al Bashir Starts Visit to Russia Tomorrow.

Assayha
* RSF Surround Hilal Stronghold.
* Eila Opponents Threaten to Quit the NCP.
* Agar Restructures SPLM-N Offices in Western Countries.
* EASAF Training Starts Today in Gabait.

Al-Youm Al-Tali

* Parliament Summons 13 Ministers on Foreign Currency Crisis.
* Sudan Donates US$95 to Support Some Countries.
* Government Bans Levies Collection on Investment Projects.
* Guidance Ministry: Christian Communities Are Practicing their Relition Freely.


Akhir Lahza
* Ghandour: Israel Is Satisfied that We Are Not In Direct Confrontation with It.
* New Policies to Enable CBOS Control Foreign Currency Resources.
* Sudan Railways Director: Al Bashir Will Launch the Experimental Operation of Khartoum-Medani Train.
* Hummaida: 5 Million Diabetics in Sudan.

Al-Ray Al-Aam
* Al Bashir Chairs Meeting on Exchange Rate Control.
* RSF Announce the Arrest of the Kidnapper of the Swiss Hostage.
* New Measures on Drilling Wells Drilling
* Army Enters IDPs Camp in West Darfur for Firearms Collection.

Al-Intibaha
* Supreme Court Withdraws Sudacal Case File.
* Canadian and US Companies to Construct Silos in Sudan.
* Guidance Ministry: Christian Communities Practice Worship Freely.
* Demarcation Meetings between Khartoum and Juba Convene

Al-Sahafa
* Dollar Exchange Rate Decline to SDG22.
* Al-Hillu Accepts Resumption of Talks According to AUHIP Roadmap.
* Al Bashir Discusses with Libyan Official the Illegal Migration.
* US$484 Revenues of Tourism in Six Months.
---
National Workshop on IGAD Protocol Concludes Session with a Number of...

Next >