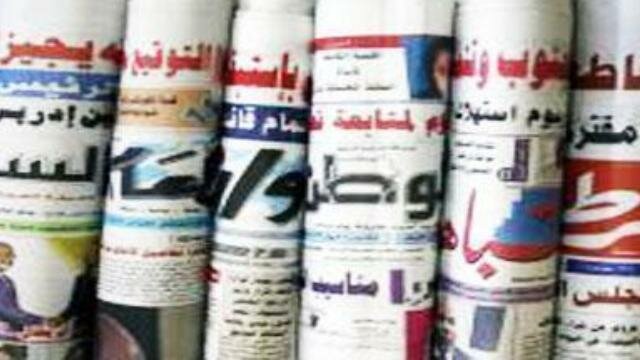 Al-Sudani
* CISSA Agrees on Anti-Terrorism Strategy
.
* Changes within NCP Secretariats, Central Committee to Resolve Gezira State Crisis.
* Renewal for the Independent Human Rights Expert, Sudan Remains under Chapter 10.
* Health Authorities Close 20 Illegal Private Clinics and Laboratories.

Akhbar Al-Youm
* Human Rights Council Admits Improvement of Situation in Sudan.
* CISSA Announces anti-Terrorism Partnership.
* South Darfur Uses Drones to Destroy Hashish Farms.
* Brussels Announces the Deportation of Three Sudanese Nationals to Khartoum.

Assayha
* US Tends to Lift Sanctions.
* Government Waiting for UNAMID Proposal on Jebel Marra Temporary Base.
* South Sudan Refugees in White Nile State Exceeded 44 Thousand.
* Atta Elected CISSA Chief.

Al-Youm Al-Tali
* Human Rights Council Endorses Sudan's Report without Condemnations.
* Muslim Brothers Group in Khartoum Mourns Mohammed Akif.
* Egypt Releases 1900 Sudanese Cattle Shipment.
* Cairo Calls for Agreement on the Filling of GERD Lake.


Akhir Lahza
* Authorities Seize Explosives Inside a Lorry in River Nile State.
* Gum Arabic Production Expected to Rise to 12 Thousand Tons in North Kordofan.
* Police Deployed to Destroy Hashish Farms in South Darfur.
* Hassabo: Sudan Will Remain on Top of Continent's Stability Supporters.
Al-Ray Al-Aam
* Hassabo: Sudan Suffered a Lot from the Negative Forces.
* Khartoum Governor Reveals Plan to Rehabilitate the River Banks.
* Survey on Tourism Sites Completed.
* Preparations Completed to Launch Development Projects in Gezira State.

Al-Intibaha
* Egypt Supplies SPLM-N with Military Equipment.
* Campaign to Vaccinate 200 Thousand Citizens in Juba.
* Medicines Council Registers 439 New Types of Drugs.
* North Kordofan Ex-Governor Hands His Weapons.

Al-Sahafa
* Hassabo: We Aspire for the Establishment of United States of Africa.
* NCP: Government Fulfilled Its Commitment towards Darfur Peace.
* Mustafa Al Batal Appointed Media Advisor in London.
* IMF Expects Slow Growth in Sudan During 2017.
---
Daily Arabic Newspapers Headlines Friday, 29th September, 2017

Next >