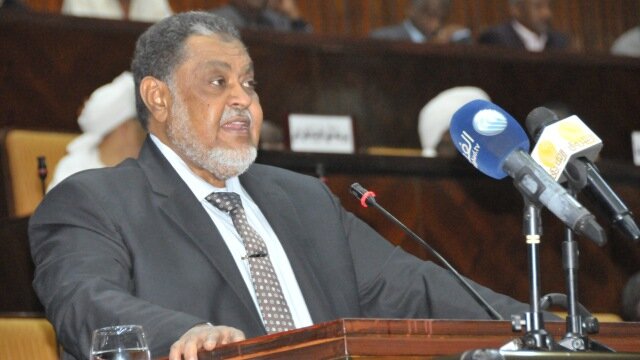 Khartoum - The Minister for Finance and Economic planning, Dr Mohamed Osman Al-Rikabi has stressed that his meeting in Washington on the side line of the World Bank and
IMF have focused on lifting the name of the Sudan from the list of countries sponsors of international terrorism, and writing off Sudan debts, expressing his hope that Sudan's name would soon be removed from that list.

The Minister has pointed out following his return from Washington that his talks have centered on the status of the Sudanese economy following the separation of South Sudan, the issues of the refugees and the challenges facing the Sudanese economy to be part of the international economy after the revocation of the sanctions.

He said his arguments have received favorable listening from the groups he met and that they expressed readiness to cooperate with the Sudan in the coming period

He explained that he met on the sideline of the IMF and WB with the representatives of the American treasury, the UK development agency.

He said he met with the undersecretary for treasure and discussed with him lifting the name of the Sudan from the list of countries sponsor of international terrorism. He added that the American banks and the treasury made a number of remarks and that he believed that the meetings have been fruitful and successful.

He said he also met with a number of American businessmen and American banks and that they discussed how to encourage American banks open offshoots in the Sudan. He said the meetings were successful and would have some dividends


He said he also met with his Saudi counterpart and with representatives of the Saudi Fund and that they discussed economic relations and how transfers of Sudanese expatriates could be facilitated beside cooperation in the banking system and its return to normalcy and that the Saudi officials have promised to cooperate in these areas.


The minister said he also met with his South Sudanese counterpart and discussed cooperation and issues of mutual interests in the return of relations to normal in border areas, restoration of the Babanousa railway link, cooperation in petroleum matters and completion of the technical work required

He said he also met with the international partnership for education and received promise of 75 million dollars in assistance and a grant of 50 million dollars.

He said they also agreed to provide an additional 15 million dollars for the Sudan.
---
Guidance Minister Participates in Golden Jubilee of the Two Saints...

Next >