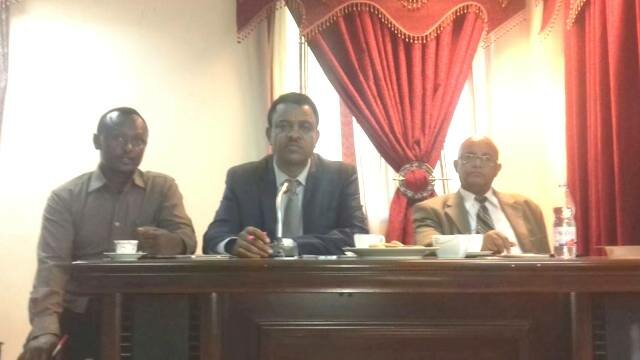 Khartoum-The Ethiopian Government has renewed accusation to some African countries and some western countries of attempting to destabilize security and stability in its
territories by being involved in the recent events seen by Ethiopia.
The Ethiopian Minister of Federal and Pastoral Area Development, Kassa Tekebrhan   has disclosed that these countries have exploited the shortcoming associated with creating even economic development by the Ethiopian government to obstruct Ethiopia from combating poverty, ignorance and implementing good governance saying that they don't want Ethiopia to exit this vicious circle of poverty.
He  noted  that conditions were restored back to normal after announcing emergency state  which enabled restoring stolen properties stressing that some external agency  are attempting to mess with security, peaceful and religious coexistence prevailing in Ethiopia. He said these circles transformed the shortcomings of creating an even economic development to a religious and tribal issue to fuel internal conflicts
He further said the Renaissance Dam has provoked fear by many parties a matter which prompted them to exploit some internal parties for fueling dispute,
Kassa affirmed in a press conference he held yesterday at the Ethiopian Embassy in Khartoum at the conclusion of his visit to the country that his country is grateful to the government and people of Sudan for standing on the side of Ethiopia during the ordeal it went through  and considers it a historic stand in all fields  with the aim of restoring conditions back to normal
He noted that the government which was announced yesterday in his country has aimed to resuming economic development and progress and tackling the shortfalls by some former ministers after citizens' disgruntle over their performance during the past period.
On Ethiopian refugees in Sudan, the Ethiopian Minister affirmed that his government is working day and night for their return to their country and creating job opportunities for them as well as delivering basic services to them particularly after the government was able to mitigate poverty down to 20% from 50% during the past years.
The Ethiopian Minister affirmed that Amnesty International is attempting to present fraudulent reports about human rights conditions in his country. He  stressed that Ethiopian prisons is empty of political detainees  noting that some of the accused of different cases allege that they are detained for political cases to draw the attention of the international public opinion and seeking means for defaming the government.
He went on to affirm that the recent events were caused by an internal problem  and the government admitted it  and is now working towards tackling the shortcomings in realizing even economic development in the region. He stressed that the new cabinet is not based on a tribe or a sect but it is based on competence and capacities taking into account the share of the component local community and the Ethiopian constitution has guaranteed equality in rights and obligations for all the people. He asserted that election of provinces will be held in its fixed time in the year 2017 in conformity of the previously announced schedule.
For his part the Ethiopian Ambassador to Khartoum Abadi Zemo said the central government doesn't intervene in appointing regions governors in Ethiopia and the government heeds the components of the people saying that his county will not go ahead if this is not taken into account stressing that there is no domination of religion or tribe and all are equal in rights.
---
US State Department Contradicts Itself

Next >