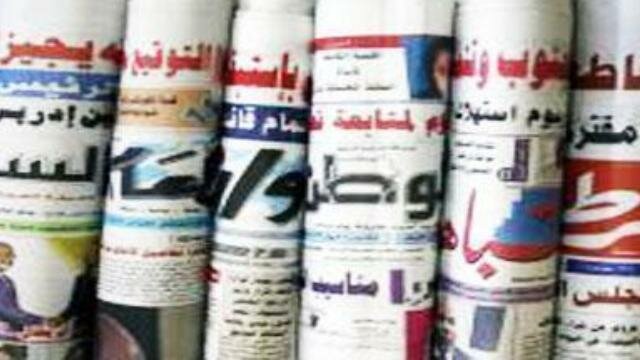 Al-Sudani

* CIA, French and Saudi Arabia Intelligence Representatives Participate in CISSA Conference
* Planting of the Largest Areas of Cotton in 30 Years, US$500 Million Expected Revenues.
* Dollar Exchange Rate Decline to SDG18.5.
* Sudan to Return to International time as of November 1st.

Akhbar Al-Youm
* International Oil Companies Express Desire to Do Business in Sudan.
* Al Bashir: Our National Security Could Not Be Completed without the Stability of South Sudan.
* Al Bashir to Address Nation through the Legislature on October 2nd.
* Foreign Minister Meets UN Secretary General.

Assayha
* IMF Subjects Economic Stability in Sudan to Radical Reforms.
* RSF Arrest 28 Foreigners in the Northern Borders with Libya.
* Mohammed Atta: Mercenaries and Human Trafficking Threaten the Security of Africa.

Al-Youm Al-Tali
* Al Bashir: Unilateral Sanctions Resulted to the Suffering of Sudanese Society.
* Presidential Directives to Organize an Annual Forum for African Elites.
* West Darfur Took over 2 UNAMID Stations.
* Khartoum Legislative Council Endorses New Constitution for the State.

Akhir Lahza
* Libyan Militias Kill a Sudanese National.
* Al Bashir; Sudan Exerting All Possible Efforts to Confront Terrorism and Extremism.
* Egyptian Ambassador: US Sanctions Harmed the Sudanese People.
* US Official Urges South Sudan Leaders to Rescue the Peace Agreement.

Al-Ray Al-Aam
* UN Secretary General Admits the Decline of Military Operations in Darfur.
* CISSA President: Terrorism Combat Is the Priority of African States.
* Obasanjo: Security and Political Stability are Two Sides of One Coin.
* Chevron Desire to Return to Investment in Sudan.

Al-Intibaha
* South Sudan Army and Opposition Troops Prepare for New War.
* Banning Light Plastic Bags Act Endorsed in Features State.
* Khartoum Legislative Council Extends Its Round.
* Justice Minister Slams  Special Independent Expert to Sudan

Al-Sahafa
* Al Bashir Hails the Intellectual Forum, Directs Organizing It Annually in Sudan.
* Al Bashir: Arms Collection Campaign Includes All States.
* Sudan Reiterates Commitment to Apply Human Rights Agreements.
* Al-Mirghani Receives Al-Mahdi in Cairo and Announces His Return Date.
---
New Aid Plan Needed for S. Sudan

Next >