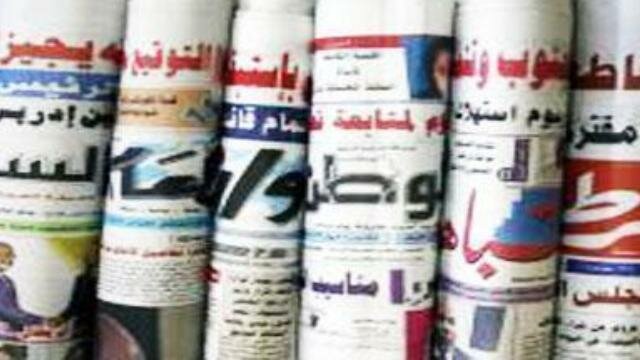 Al-Sudani
* Imminent Decision from Trump Today to Permanently Lift Sanctions on Sudan
.
* Finance Ministry Reveals Decisions on Exchange Rate.
* Bija Congress To Organize Its General Conference On December.
* Cabinet Endorses 2018 Budget Directives.

Akhbar Al-Youm
* US Sources: Strong Trend to Announce Lifting on Sanctions on Sudan Today.
* Sudan Included in New Negative US List.
* Ghandour Arrives in South Africa, Meets Machar.
* Sudan/Somalia Talks Concluded.

Assayha
* Midnight of 31st October Dtae to Changing the Time in Sudan.
* US Official: Sudan Achieved Progress in Anti-Terrorism Activities.
* Parliamentary Committee Sticks to Investigate on Accusations against Tourism Minister.
* 2018 Budget Concentrated on Foreign Stock Market.
* Juba: We Are Planning for the Return of Refugees from Sudan.

Al-Youm Al-Tali
* Al-Bashir: Sudanese/Somalia Relation Deep-rooted.
* Hamdi: Political Groups Monopolized Cotton Cultivation.
* SDG161 Million to Implement Projects in River Nile State.
* 12 Injured in Student's Violence in Anuhud University


Akhir Lahza
* Government Closes 67 Crossing in Support to Firearms Campaign.
* Al Bashir: We Will Exert All Efforts to Achieve Peace and Stability in Somalia.
* Joint Sudanese/Chadian Monitoring on the Bordering Line.
* Debby in Khartoum on Monday.
Al-Ray Al-Aam
* One Million Families to Join Health Insurance this Year.
* Ghandour: Meeting with Machar Fruitful and Positive.
* Information Ministry Leads Convoy to Central Darfur on Firearms Collection Campaign.
* Chadian Foreign Minster Arrives in Khartoum.

Al-Intibaha
* Presidency Bans Shooting on the Air in the Ceremonies.
* Hassabo Reveals Decline in Human Trafficking.
* Only some Hours to Announce Lifting of Sanctions.
* Finance Minister: Government will Continue Lifting the Subsidies.

Al-Sahafa
* 2018 Budget Includes Reduction of Inflation Rate.
* Reshuffle in Khartoum Legislative Council Heads of Committees.
* NCP: Three Option to Deal with Lifting Sanctions' Decision.
* Arab Standardization Forum to Meet in Khartoum.
---
A woman's Burden in War-torn South Sudan

Next >