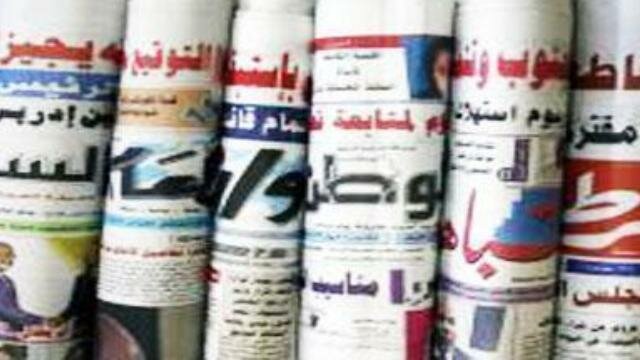 Al-Sudani
* Trade Minister Reveals Procedures to Ban Government Compnaies
.
* Dollar Exchange Rate Continues Decline.
* PCP Forwards Proposal on the Formation of Commissions.
* Juba: We endeavours to Extend Electricity Network from Sudan.

Akhbar Al-Youm
* Juba Announces Imminent Resumption of Higlieg Oilfield Production
* FM Affirms Egypt's Support to Sudan in Human Rights Council Meetings.
* South Darfur Governor Meets UNAMID on Klma IDPs Camp Incidents.
* Al-Hilu Group Meets in France in Preparations for the General Conference.

Assayha
* Mustafa Osman: UN IS Not Planning to Change the Regime of Sudan.
* Government Cancels Fees Imposed on Exports.
* AU: Dialogue with the SPLM Useless
* Juba: We Are Planning for the Return of Refugees from Sudan.

Al-Youm Al-Tali
* Al-Rikabi: Five Years Programme Commodities Failed
* Parliament Prepares to Summon Finance Minister
* Juba Denies Receiving Military Assistance from Cairo.
* Khartoum Reveals Coordination with Cairo in Human Rights Meeting.


Akhir Lahza
* Government Hints to Lift Bread Subsidy.
* Presidential Aide Congratulates Chinese Communist Party on Its 19th National Conference.
* Mbeki on Intensive Consultations to Resume the Two Areas' Talks.
* NCP Diplomacy Succeeded in Removing a Lot of Obstacles.
Al-Ray Al-Aam
* Ibrhim Mahmoud: Next Stage Is for National Accord.
* Sudan Coordinates with European Countries to Hand Cybercrime Suspects.
* Police Authorities: Traffic Accidents Declined by 68%.
* Finance Minister Reveals Moves with the International Community to Write-off Sudan's Foreign Debts.
* .
Al-Intibaha
* Egyptian Borders Guards Kidnap Sudanese.
* Sudanese Female Pilgrim Missed in Saudi Arabia.
* Presidential Aide: Health Standards behind Banning Catttle Exportation.
* Juba: No Debt on Oil Transit Fees.

Al-Sahafa
* New Measures to Ban Government Companies.
* Presidential Aide: Present Stage Is the Best Politically.
* East Darfur Collects 2000 Weapons in the First Stage.
* Juba: the Conflict in South Sudan Is over Power.
---
Khartoum: Capital of CISSA: Heads of African Security at the Nile...

Next >