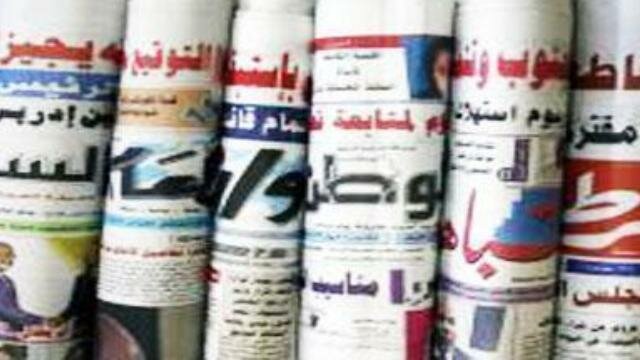 Al-Sudani
*Mubarak Al-Mahdi Calls for Normalization with Israel
.
*Wide Reactions to Apology Made by Saudi Ministry of Health to Sudanese Physician Subjected to Assault.
*Sudan and UK to Resume Strategic Dialogue in London next October.
* Opposition Forces Burn Down and Destroy Darfur Movements' Camps in Bahr Al-Ghazal.

Akhir Lahza
*Unionists Led by Abu-Sabieb Say Al-Mirghani Lost Legitimacy.
*Truck Loaded with Weapons and Ammunition Seized in Om Rowaba.
*Sudanese-Egyptian Military Talks in Cairo.
*Somali President Makes Stopover at Khartoum Airport.

Al-Ray Al-Aam
*South Sudan Opposition Kills 48 Members of Darfuri Movements in Bahr Al Ghazal.
*Military Talks between Sudan and Egypt on Security and Stability of the Area.
* Prominent Leader in Abdul-Wahid Movement Dies of Poisoning.
*Floods and Rains Close Roads and Isolate Al Mahas Villages in Northern State.

Al-Youm Al-Tali
*Civil Defense Warns of Rise in Nile Water Levels at Mogran Area.
* Abyei Oversight Committee Announces Withdrawal of Juba from Addis Ababa Talks
*Outcome of National Dialogue Referred to Ministerial Sectors.
* Machar Forces Destroy Camps of Darfur Rebels in Bahr Al-Ghazal.

Assayha
*Floods Sweep 10 Villages South of Khartoum as 5000 Houses Damaged in the States.
*Al Bashir: Africans are Capable of Solving their Problems Away from Foreign Interventions.
* Bakeries Union Urges Removal of Obstacle Facing Flour Mills.
* French Expert Draws Similarity between Darfuri Movements in Libya and Mercenaries of Blackwater.

Al-Intibaha
*A Field Commander in Abdul-Wahid Movement Killed by Poison.
* South Sudan Government Forces Withdraw from Pagak.
*Presidency Urges Council of African Political Parties to Attach Concern to Issues of Migration and Poverty.
*Chadian Prime Minister Arrives in Khartoum Today.

Al-Sahafa
*Governor of Khartoum State: We Will Not Allow Transferring Agricultural Lands into Cement Forests.
*Warnings of Possible Floods in Khartoum, Gezira and Sennar.
*Minister of Foreign Affairs Visits Sweden.
*Britain Reiterates Support to Lifting of US Sanctions from Sudan.

Al-Ahram Al-Youm
*Juba Withdraws from Addis Ababa Meetings on Abyei.
*Hassabo: There will be No Retreat from Weapons Collection Campaign.
* Agreement on Establishment of 10 Model Villages in Darfur.
* Ghandour Receives New Ambassadors of Switzerland, Uganda and Mauritania.
---
Daily Arabic Newspaper Sunday, 20th August, 2017

Next >