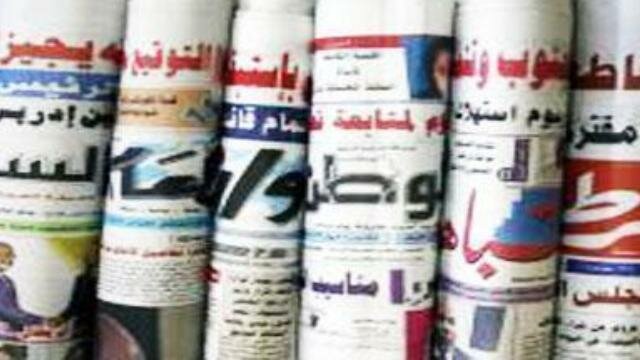 Al-Sudani
*Ethiopia Decides to Bring 50% of Its Imports Through Port Sudan.
*In a First Precedent: Officials Take Oath to Make Development Projects Successful.
*UK: South Sudan Needs Successful Political Process.
* South Darfur Governor: Nyala Becomes Free of Crime after Decision of Weapons Collection.

Akhir Lahza
*Criminal Network Specialized in Forging Marriage Contracts Arrested. *Ansar Al-Sunnah: Circles Work to Create Sedition between Us and the Sufis.
*Al Bashir Participates in Celebrations of Inauguration of Rwandan President.
* Desalegn Concludes Visit to the Country.

Ahbar Al-Youm
*Joint Forces Fully Authorized to Deal with those who Reject Handing over of Weapons.
*National Congress Youths: The Atmosphere in Darfur Now is for Farming Not Fighting and Carrying of Weapons.
*Minster of Health of Northern State Inspects Watery Diarrhea Cases in Delgo.
 
Al-Ray Al-Aam
*Maalia and Rizeigat Tribes Voluntarily Handover a Thousand Pieces of Weapons in East Darfur.
*UNAMID Vacates its Site at Maliet and Hands it over to Government.
* Informatics Investigation: Number of Electronic Crime Suits Reach 1207 till August.
* Karima Factory Starts Canning of Dates.

Al-Youm Al-Tali
*Government Receives Site from UNAMID Near Libyan Borders.
*Ethiopian Prime Minister Concludes Visit to the Country.
*Saleh Briefs Desalegn on National Dialogue Experience
*Addis Ababa Meetings on Abyei Issue Postponed.

Assayha
*A Saudi Citizen Who Insulted a Sudanese Physician Faces a Million Riyal Fine and 10 Year Imprisonment.
* Darfur Rebels in Libya Kill Two Brothers.
* 88 MPs Leave for Hajj.
* Pro-Aggar Elements Hold Al-Hilu Responsible for Attack on Yaboos.

Al-Intibaha
*Water Levels of the Nile Register Rise at Khartoum, Sennar and Gezira.
*Haftar Manages to Buy Support of 1000 Elements of Darfur Movements.
* Saleh Addresses Representatives of 32 African Political Parties in Khartoum Today
* Egypt Changes Historical Planning of Halayeb and Implements New One.

Al-Sahafa
*Mercenaries of Darfur Movements in Libya Execute Two Brothers.
*Security Organs in Juba Arrest Director of the Office of the Former SPLA Chief of Staff.
*Sudan Participates in Damascus International Fair.
* International Agencies Pledge Support for Western Darfur Government.
---
"Building Resilience through Innovation, Communication and Knowledge...

Next >