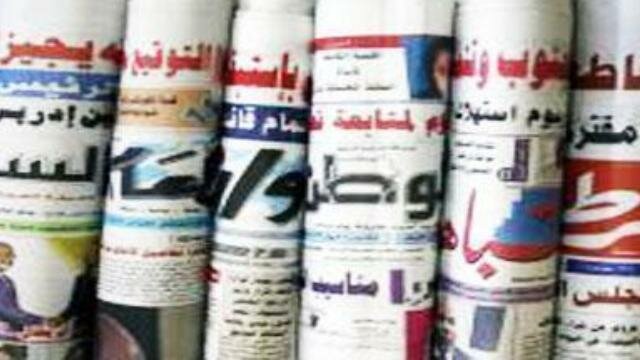 Al-Sudani
* Al Bashir: We Are Working to Find a Resolution to Gulf Crisis

* Qatari Ambassador Lauds Sudan's Stances.
*  MPs Call for Cancelling Medical Allowances for Officials.
* EU Allocates 1.7 Million Euros to Boost Democracy in Sudan.

Akhir Lahza
* Al Bashir Returns after Participating in IGAD Summit in Addis Ababa.
* Gedarif Bans Entry of Dried Fish through Borders.
* Blue Nile Council Rejects Arman and Agar Resignations.
* Meteorology: Temperature today in Khartoum between 35 – 47degrees  Centrigrade

Al-Ray Al-Aam
* FIFA Recognizes Non Interference of Government, Directs Early Elections for SFF.
* NISS Releases Journalist Nadir Atta.
* Egyptian Journalists Union to Visit Sudan on Code of Ethics.
* Plan to Stop Exportation of Life Livestock Gradually


Al-Youm Al-Tali
* Al Bashir: Juba's Harbouring the Armed Groups Threatens Security and Stability.
* Minister of Youth and Sports Meets Visiting FIFA Delegation.
* Transparency Organization Calls on Government to Fulfill the Requirements of Prosecution Independency.
* 108 Thousand Tourists in Northern State.

Al-Sahafa
* SPLM-N in Blue Nile Slams Nuba Mountains Liberation Council.
* NISS Repulses Human Traffickers in the Bordering Check Points.
* FVP Reviews the Performance of Tourism Ministry.
* UNSC Extends Banning Smuggling Weapons to Libya.

Al-Intibaha
* Darfur Armed Groups Preparing to Launch a New Attack.
* Haftar Provides Minnawi and Tarada with Military Equipment.
* War of Words Dominates SPLM-N.
* Al-Mahdi: My Breaking the Fast with Al Bashir Is a Social Occasion, I Didn't Offer any Initiative.

Akhbar Al-Youm
* FIFA: It Is Difficult to Take Action against the SFF.
* Water Crisis Continue in Khartoum State.
* Khartoum Trains Teachers on SMILE Textbook.
* Cabinet: Sudan Is Heading towards a New Stage.

Assayha
* Jagoud Interferes to Contain Clashes among SPLM-N in the Blue Nile.
* Protests in Halfa on Deterioration of Services.
* WTO Dossier Back to Ministry of Trade.
* Clashes in South Sudan Refugees Camp in Jebel Aulia.
---
SPLM-N Ready for Reform as Tanzania Pierce for Peace Process in Sudan

Next >