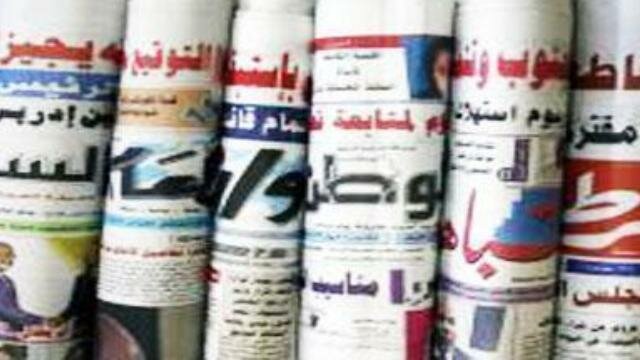 Al-Sudani
* CBOS Announces Pumping More Foreign Currencies to the Commercial Banks.
* Police Authorities to Deploy 18 Thousand Soldiers to Secure Khartoum.
* Start of Second Phase of Power Production in Upper Atbara and Siteet Dams.


Akhir Lahza
* Operations Room to Resolve Public Transport Crisis.
* New Support from Haftar to Darfur Insurgents.
* UNAMID Pulls Out 8 Battalions from Darfur.
* Al Bashir to Visit Morocco after Eid.


Al-Ray Al-Aam
* Premier Approves Rainy Season Equipment for States.
* Health Ministry Affirms Decline of Watery Diarrhea
* Parliament Committees Resolved, Formation of New Committees Next Thursday.
* Presidential Aide Welcomes Gulf Investment, Affirms Support.

Al-Youm Al-Tali
* Meteorology Warns against Hikes of Temperature.
* UN: SAF Aborted Two Attempts of Darfur Armed Groups to Create Chaos.
* Government: SPLM-N Future Is Gloomy.
* Agricultural Bank of Sudan: 80% of the Farmers Settled their Dues.

Al-Sahafa
* Agar Calls SPLM-N Commanders to Intervene
* Commanders of Minnawi Movement Gave-up in Ein Siro.
* Supreme Court Frees Mohammed Hatim Suleiman from all Accusations.
* Bakri Formation of a Follow-up Committee for National Dialogue Requirements.

Al-Intibaha
* Sudanese Businessman Assassinated in Juba.
* Disputes Escalate within SPLM-N.
* Contacts to Resume the Two Areas Talks.
* Directives to Implement Closing Brick Factories in Khartoum Localities.

Akhbar Al-Youm
* Deaths and Injuries in Al-Dabba Incidents.
* Al-Mirghani Rebalanced Khartoum's Stance towards Gulf Crisis.
* Sameh Shukri: Relations with Sudan are Strong
* FVP along with Concerned Ministers Tour Kalakla District.

Assayha
* Government: UNAMID Exit Represents Testimony on Rebellion End in Darfur.
* MoU between Al-Mahdi and Gizouli to Debate with Islamic Groups.
* Hatim Hassan Bakeit Swears-in.
---
Sudan: China's Original Foothold in Africa

Next >