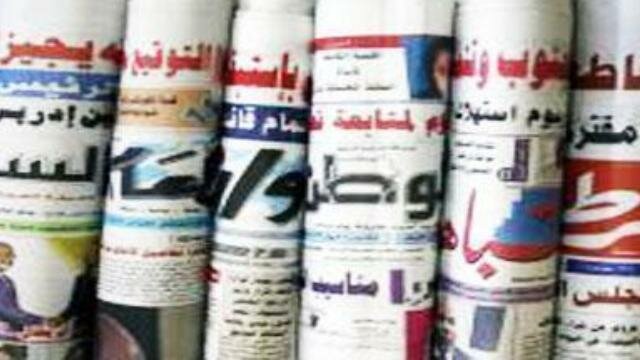 Al-Sudani
* US Institutions Support Lifting Sanctions on Sudan
.
* SPLA Supports Sacking of Agar and Arman.
* Khartoum State Police Desires to Establish anti-Terrorism Unit.
* Egypt Receives 795 of Sudanese Livestock.

Akhir Lahza
* Cabinet Urges Expatriates to Utilize their Expertise and Savings in Favour of Development of Sudan.
* Trade Minister Emphasizes the Importance of Sudan Joining the WTO.
* Tribal Clashes Claimed the Lives of 5 and 12 Injured in Rumbek
* First Phase of Sudan/CAR Coastal Highway Completed.

Al-Ray Al-Aam
* 3 Killed and 14 Injured in Quarrel among Conventional Miners in Northern State.
* Sudanese and American Businessmen Exchange Visits.
* FVP Forms State Reform Follow-up Committee.
* Justice Ministry to Forward a Report to Parliament on September 2013 Incidents.

Al-Youm Al-Tali
* Libyan Army Announces Closing Borders with Sudan.
* Juba National Dialogue Committee Decides to Meet Riek Machar.
* South Kordofan Governor Calls on Armed Groups to Join Peace Process.
* Handing Overtone between International Cooperation and Trade Ministries on WTO Joining Dossier.

Al-Sahafa
* Russia Announces the Killing of ISIS Leader.
* Sudanese Female and Her Two Kids among the Lost in London Fire.
* Health Measures to Control Watery Diarrhea in Jebel Aulia.
* Trump Cancels Obama's Deal on Normalization of Relations with Cuba.
Al-Intibaha
* SPLA Commanders Meet to Announce Support to Al-Hilu.
* New Measures to Prevent Entrance of Banned Commodities to Sudan.
* AU Calls for Ceasefire in South Sudan.
* 22 Million Euros from the EU to Improve Education in Sudan.

Akhbar Al-Youm
* Pentagon, CIA and FBI Support Lifting of Sanction on Sudan.
* Ghandour Discusses with UAE, Egypt and Saudi Arabia the Developments in Gulf Crisis.
* Foreign Ministry Welcomes UNSC on Reducing UNAMDI to 50%.
* Parliament Asks Justice Minister on Human Rights Status

Assayha
* Trump Aides Recommends Lifting Sanctions on Sudan.
* South Sudan Rebels Deny Receiving Support from Sudan.
* Justice Ministry: Several States' Constitutions Violate the National Constitution.
* UN: Tensions between Eritrea and Djibouti Result of Gulf Crisis.
* Marian Al-Mahdi: Lifting of Sanctions Will Not Resolve Sudan's Problems.
---
Daily Arabic Newspapers Headlines Sunday18th June, 2017

Daily Arabic Newspapers Headlines Friday 16th June, 2017

Next >