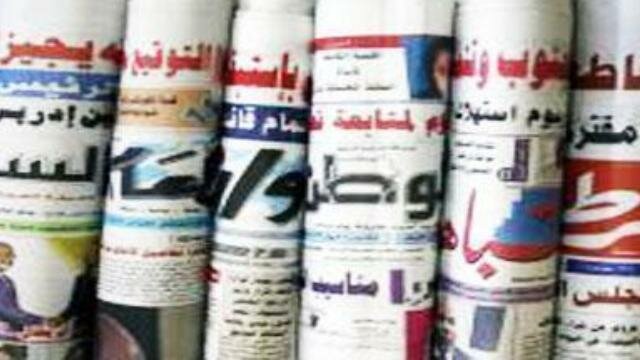 Al-Sudani
* Egypt and Ethiopia Call on UNSC to Suspend Sudan's File in the ICC
.
* USA and Germany Reject the Embargo on Qatar, UAE Beats on Diplomacy.
* FIFA Support Mutasim Football Federation
* Agar: Ali Coup is a Big Shame on All of Us.

Akhir Lahza
* Authorities Arrest Merchant who Sells Injected Oranges
* Sandstorms Destroy 160 Houses in North Kordofan.
* USA Calls on Gulf States to Ease Embargo on Qatar.
* Juba Rebels Announce Responsibility on Attack on a Convoy.
* Abyei Corridor to Provide Assistance to South Sudan.

Al-Ray Al-Aam
* US Economic Groups Expect Total Lifting of Sanctions on Sudan.
* Mahdi Ibrahim Resigns from NCP  MPs Bloc
* Ghandour Receives Message from the UN Lauding Khartoum's Efforts in Assisting South Sudan.
* Washington Supports Sudan by US$500 Thousand to Remove Land Mines.

Al-Youm Al-Tali
* Agar: Al-Hilu Wants to Divide Sudan into 5 States.
* Trump Calls on Qatar to Improve Its Conduct, Germany Reject Embargo on Doha.
* Machar Troops Announce Responsibility of Killing and Injuring Tens of People Near Juba.
* World Islamic League Terminates Al-Qaradawi Membership.

Al-Sahafa
* Al-Hilu Announces Acceptance Assignment, Agar Describes It as Coup.
* Gunmen Kidnap Businessman in Nyala.
* North Kordofan Announces Decline in Watery Diarrhea in the State.
* Trump Calls on Qatar to Stop Sponsoring Terrorism.

Al-Intibaha
* Health Minister Warns against Importing Some Egyptian Products.
* Contacts between Al-Hilu and SPLM-N Leaders in Blue Nile on the Talks.
* NCP: Sudan Is Exerting Great Efforts to Resolve the Crises in the Arab Arena.
* ISIS Threatens to Launch Attacks in Saudi Arabia.

Akhbar Al-Youm
* Al Bashir in Contacts with Gulf States Leaders to Resolve the Crisis.
* UNSC Listens to ICC Report on Darfur.
* South Kordofan Governor Announces the National Accord Government in the State.
* South Darfur Affirms Decline in Crimes.

Assayha
* Sudan and Ethiopia Agree Not to Shelter Rebels.
* Siddiq Wada'a: Contacts are Continuous with the Holdouts to Join the Peace Process.
* Kasha: Watery Diarrhea in White Nile is Declining.
* Central Darfur Government Formed.
---
The National Dialogue Steering Committee and Membership Composition:...

Next >