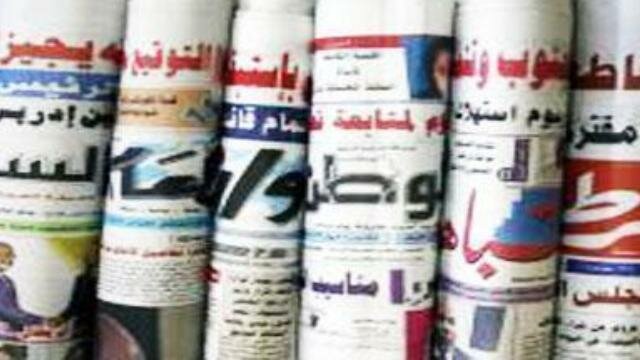 Al-Sudani

* Summit between Al Bashir/Al-Sissi and Desalegn on GERD
.
* NCP Demands the Release of Detainees or Bring Them to Justice
* Two Areas Talks to Resume on Saturday on the Roadmap.
* Al Bashir Discusses with UNSG Darfur Peace.


Akhbar Al-Youm
* Statements by the Egyptian Presidency and Sudanese Ambassador in Cairo on Al Bashir/Al-Sissi and Desalegn Meeting.
* Halayeb Citizens Rejects Egyptianization of Identity Documents.
* Khartoum Governor Discusses with KSA Ambassador Investment in Sudan.
* 20 Thousand Sudanese Refugees Return from Chad.

Assayha
* Disputes between Salva and Taban on the Return of Machar.
* Red Sea Governor: Arrangements with Turkey to Rehabilitate Sawakin Town.
* Al Bashir Meets African Development Bank Director in Addis Ababa.
* Hassabo Announces the Arrival of Modern Apparatuses to Detect Firearms.

Al-Youm Al-Tali
* International Cooperation Minister: 10 Persons Are Controlling the US Dollar Market.
* AU Summit Calls for Approving the African Passport.
* Sudan to Increase Tea Importation from Kenya by 20%.
* Darfur Breakaway Leaders: Darfur Insurgents Are in Eritrean Camps.

Al-Mijhar
* Al Bashir: Next Round of Talks will Witness a Breakthrough in Favour of Achieving Peace.
* 4 Thousand Borders Guards Announce Joining the RSF.
* Presidential Aide Announces Support to Social Protection Umbrella Project.
* Interior Minister to Lead Federal Delegation to West Kordofan State.
Al-Ray Al-Aam
* CBOS Reveals List of Companies that Reconciled their Statuses.
* CANAR Starts 4GApplication
* Ibrahim Mahmoud Affirms Keenness to Strike a Deal on Cessation of Hostilities in the Two Areas.
* RSF Abort Attempt of Smuggling 16 Thousand Sacks of Sugar.

Al-Intibaha
* Sudanese National Expelled from Halayeb.
* Parliament: Borders with Libya Are under Control.
* Khartoum Starts Campaign to Control the Markets.
* Ministry of Transport Denies Privatization of Sea Ports.

Al-Sahafa
* UN: Sudan Played An Important Role towards the International Community.
* Mineral Ministry Announces Manufacturing of Golden Currency within Two Months.
* Saudi Ambassador: Saudi Capitals on the Way to Sudan.
* Parliament Speaker: Development Is the Safe Valve of Stability in Darfur.


---
Daily Arabic Newspapers Headlines Sunday 28th January, 2018

Next >