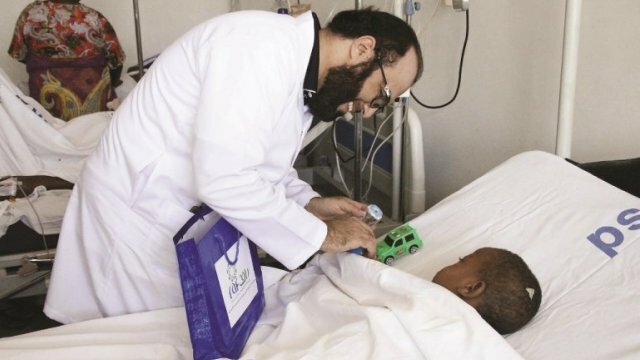 DOHA (The Peninsula): Sheikh Thani bin Abdullah Foundation for Humanitarian Services (RAF) has provided QR800,000 for conducting angiography and open heart surgeries
on 95 children in Sudan.
The donation is part of a worldwide medical campaign entitled "small hearths" launched by RAF to provide treatment to poor children suffering from heart diseases.
RAF has signed an agreement through its office in Khartoum, capital of Sudan, with a heart hospital in the country. As per the agreement, a team of doctors from the hospital will conduct 95 open heart surgeries,
angiography and other procedures on 95 children under the age of 12. The doctors are providing their services voluntarily. An open heart surgery costs QR12,000 out of the hospital.
RAF, in collaboration with 'Islamic forum organization', has launched the fifth campaign of its small heart for children of poor families suffering from heart diseases in Sudan.
Qualified doctors for angiography and open heart surgeries are available in Sudan but poor people cannot afford as an operation costs QR12,000.
More than 200 cases were found requiring urgent heart surgeries every year.
RAF conducted a survey in collaboration with its local partner and the social unit of the hospital to provide medical support to the most deserving children from poor families.
The survey suggested that some cases were very serious and patients died due to delay in operation.
The initiative is a rescue boat for the beneficiary children and their families who could not afford the cost of operation due to financial reason.
RAF projects all over the world have benefited tens of thousands of  people and the organisation has several projects lined up. 
---
Ministry Urges Canadian " Myaas Sand" Company to Speed up Reconciling...

Northern State to Sign Biggest Project for Calves Fattening

Next >