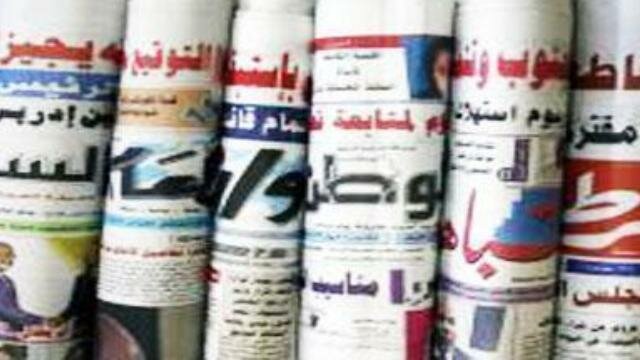 Al-Sudani:
*Liberalization of the exchange rate of the dollar assigned for medicines.
*Al-Sudani interviews brother of the Sudanese youth arrested in Saudi Arabia.
*America renews the sanctions against Sudan.
*Al Bashir and Emir Tamim discuss bilateral relations in Doha.
 
Akher Lahza:
     *Director of Medical Supply reveals to Akher Lahza details about shortage in blood transfusion bags.
     *Saudi diplomat: Circles aim to undermine relations between Khartoum and Riyadh.
     *Khartoum plans to import buses from Saudi Arabia.
 
Akhbar Al-Yom:
 * US administration renews sanctions against Sudan and Sudan Embassy to Washington responds by a statement.
*Fact finding committee formed to investigate in incidents in Sennar.
*Ministry of Irrigation denies increase in water fees for agricultural schemes.
 
Al-Intibaha:
* Clashes between the People's Army and Mundari tribe near Juba.
*National Congress: No leading figure will continue in his position for more than two years.
* Dr. Amin rules out resumption of negotiations on Darfur issue shortly.
* Eritrea: Joint action with Sudan to combat illegal activities at the border.
 
Assayha:
*Government confiscates sugar project belonging to sons of Hosni Mubarak.
*Mass displacement of Dinka from Yei and fears of tribal massacres in Equatoria.
*Minister of Education admits difficulties facing free of charge education.
Central Bank of Sudan directs ultimatum to withdraw licenses of four exchanges.

Al-Rai Al-Am:

*Al-Rai Al-Am published result of investigation of independent committee on claims on use of chemical weapons.
*Symposium in London warns of danger resulting from involvement of Darfurian movements in dispute in Libya.
*Saudi Ambassador: Relations with Sudan reached distinguished level.
*Foreign Ministry: We expect continuous African withdrawals from International Criminal Courts.
 
Al-Yom Al-Tali:
*Obama renews sanctions against Sudan and hints about lifting them in the future.
*Deby informs Al Bashir on outcome of his meeting with Darfur movements in Berlin.
*Ministry of Petroleum and Gas estimates shortage in gas at 500 tons daily.
 
Al-Ahram:
*Mubarak Al-Fadil: Movements are negotiating secretly.
*Khartoum plans to import 260 buses from Saudi Arabia.
*Leaders of Nuba Mountains adopt initiative to convey humanitarian aid to citizens.
*People's Congress: Al-Turabi did not suggest dissolution of the party. No date was set for implementing replacing system.
 
Al-Sahafa:
*New rebellion in Equatoria threatens to overthrow Salva Kiir.
*First Vice-President asserts firmness of Sudanese – Saudi relations.
*Differences at Tirab Movement lead to dismissal of four leading figures.
*Ethiopia: Sudan's national dialogue experiment deserves to be implemengted in other countries.
 
Al-Mijhar:
*Al Bashir affirms importance of Doha role for realizing peace in Sudan.
*Drugs Prosecution acquits the announcer Salma Faisal.
*New curriculums for Basic Level and revision of Secondary Level books.
---
Sudanese Rebels Given 30 Day Notice

Next >