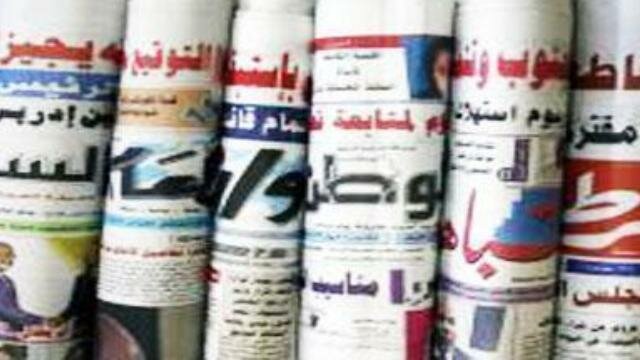 Al-Sudani
* Kuwaiti Emir Starts Mediation to Contain Gulf Crisis
.
* Agar and Arman Decide to Leave the Leadership of the SPLM-N and Assign Others.
* Al Bashir Directs Utilizing 2.4 Million Acres in River Nile State to Agricultural Project.
* Council of States Expects Final Lifting of Sanctions Next July.

Akhir Lahza
* 944 Complaints against Public Institutions Tabled Before Justice Ministry.
* Sabdarat Criticizes Justice Ministry Statement before the Parliament.
* Trends to Change the Name of Council of States.
* Government Accepts Opening Abyei Corridor to Provide Assistance to South Sudan.

Al-Ray Al-Aam
* 1720 Approvals for Official Delegations Tours within Three Months!!
* 50 Fistula Operations in El-Fashir.
* Consultations for UNAMID Exit from 4 Locations in Darfur.
* PCP: List of Our Candidates for States' Governments Is Ready.

Al-Youm Al-Tali
* MPs Slam Government Policies towards Expatriates.
* Mohammed El-Amin Khalifa Deputy Chairman of  States' Council
* Finance Ministry Announces Increase in the Sudan School Certificate Marking Incentive.

Al-Sahafa
* Organizations: 500 Killed in Clashes among Blue Nile Insurgents.
* Authorities Seize Heavy Weapons in Omdurman.
* South Sudan Dialogue Committee Demands Machar to Condemn Violence.
Al-Intibaha
* Public Money Court Charges an MP and a Member in Football Federation on Embezzlement.
* 500 Dead in Internal Clashes within the SPLM-N.
* Qatar Announces Acceptance of Kuwaiti Mediation Efforts.
* Meeting to Reconcile Al-Hilo and Agar and Arman Failed Three Times.

Akhbar Al-Youm
* Emir of Kuwait Arrives in Jeddah for Mediation.
* Education Ministry Changes the English Language Syllabus in Secondary schools.
* Civil Society Organizations Slams Kasha's Statement on the Decline of Watery Diarrhea in White Nile.
Assayha
* Agar Tenders Resignation along with Al-Hilu and Arman to Resolve the SPLM-N Crisis.
* Sudan Loses US$700 Million Due to Electricity Cuts.
* Dialogue Committee in South Sudan Demands Kiir to Allow Machar to Return.
* Proposal to Downsize UNAMID Forces in Darfur.
---
Launching of the Scientific Research Projects for the Year 2017

Next >