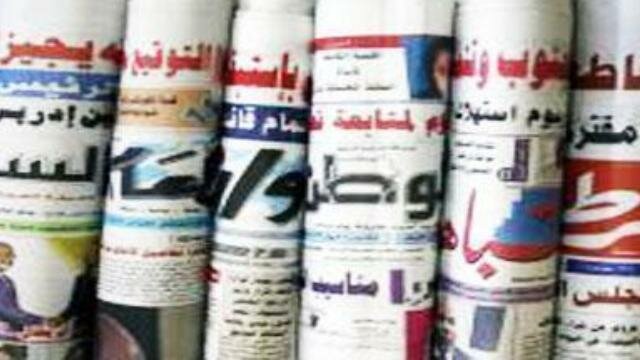 Al-Sudani

* Khartoum State Government Parties Nominate Al Bashir for New Presidential Term.
* Intensive Campaigns to Control the Price Hikes
* Second Blackout Case within 10 Days.
* Army Affirms Readiness to Confront any Types of Targeting Sudan.


Akhbar Al-Youm
* Workers Bank Starts Distributing Sorghum to Labourers.
* Al Bashir Lauds the Medical Services General Directorate.
* Ghandour Resumes Office as Normal at the Ministry.
* North Darfur Governor Affirms Stability of Security Situations in Mustariha.


Assayha
* Salva Kiir Flies to South Africa for Medical Treatment after Going into Coma.
* North Darfur Governor: Hilal will Be Brought to Book.
* Foreign Ministry Regrets US Statement on Press Freedoms in Sudan.
* Presidency Affirms Support to Khartoum State.

Al-Youm Al-Tali
* Trade Ministry Reveals Decline in the Prices of Several Commodities.
* Consumer Protection Society Criticizes the Monopoly of Some Traders.
* Government Denies Receiving any Invitation to Meet the Armed Groups in Berlin.
* Presidential Aides Discuss the Political and Economic Issue of Sudan.


Al-Mijhar
* Al-Mijhar Reveals Details of NCP Shura Council Meeting.
* Poet Saif Addin Al-Disouqi Dies.
* Ghandour Affirms Readiness to Negotiate with Al-Hilu.
* Ministry of Industry Denies Any Increases in Commodities' Prices.
Al-Ray Al-Aam
* Shocking Videos of Torturing Sudanese in Libya.
* Government Affirms Participation in the Next Round of Talks with the SPLM-N.
* Parliament Speaker to Visit Darfur States Next Sunday.
* Hassabo Opens Several Services and Development Projects in East Darfur.


Al-Intibaha
* AU Investigates Torturing of Sudanese in Libya.
* MPs Demand Summoning Foreign Minister.
* Authorities Release the Detained Journalists.
* Social Development Ministry: 26% Poverty Rate in Khartoum State.

Akhir Lahza
* Traffic Accident Claims the Lives of 30 in Bara-Omdurman Highway.
* UK Encourages Sudan and SPLM-N to Make the Talks Successfull.
* Authorities Abort Smuggling of Diesel and Commodities Attempt.
* Parliament Slams Washington Statement on Freedoms in Sudan.
---
International Fair of Khartoum 35th Edition Convenes

Next >