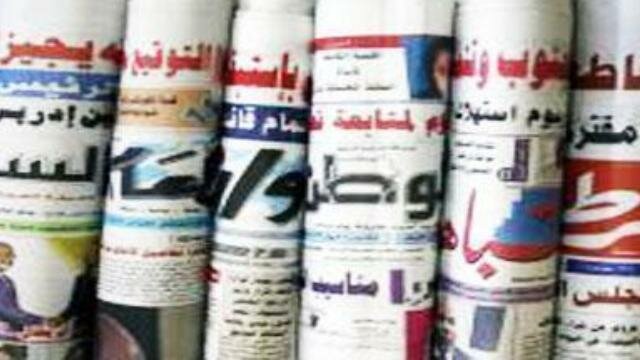 Al-Sudani

* Official: Ghandour Tenders His Resignation, President Is to Decide.
* Mubarak Al-Fadil: We Will Not Review a Line for the Budget.
* US Security Institute: Sudan IS the First Arab Country to Obtain Advanced Russian Warplanes.
* Al-Sisi: We Will Not Fight against Our Brothers in Sudan.


Akhbar Al-Youm
* Canadian Parliamentary Delegation Visits Darfur.
* CBOS Announces New Policies on Importation of Wheat.
* Khartoum State Provides Commodities with Reduced Prices.
* Hassabo Directs Supporting the Poor Students.


Assayha
* Al Bashir Directs Urgent Solution to Control Price Hikes
* Study in Shendi University Suspended.
* Government Reveals Intensive Plans to Secure the Northern Borders.
* Al-Sisi Demands Egyptian Media to Stop Negative Statements on Sudan.

Al-Youm Al-Tali
* Ghandour Mocks the News on His Resignation.
* Trade Minister Reveals Imminent Resolution to Control the Price Hikes.
* Al-Ashkar: Egypt IS Used As a Cat's Paw against Sudan.
* Memo to the Parliament to Make Amendments on Al Bashir's Reelection.

Al-Mijhar
* Information Minister: No Intension to Reshuffle the Government.
* Ethiopian Premier to Arrive in Cairo Thursday.
* PCP Recalls its Organizational Bodies to Evaluate Participation in the Government.
* Sudan Announces Agreement with China to Implement Suki Sugar Factory.
Al-Ray Al-Aam
* Hummaida: 70% of Khartoum Population Under Health Insurance Umbrella.
* FVP: Price Hikes Are Unjustifiable.
* Opposition Parties Boycott Communist Party's Call for Protests against Budget.
* Economical Experts Demands Reviewing of Free Market Policy.

Al-Intibaha
* Egypt: We will Not enter into War against Sudan or Ethiopia.
* Government Threatens Merchants of Importing Commodities and Selling It In Reduced Prices.
* Oil Ministry Pumps 9 Thousand Tons of Diesel Daily.
* PCP Calls on Government to Allow for Communist Party Peaceful Protests.

Al-Sahafa
* Hassabo: What Is Going On Is Restructuring of Sudanese Economy.
* North Kordofan Provides Commodities to Workers.
* Factions of JEM Integrated and Form a Political Party.
* Parliamentary Committee Urges Reducing Disorder and Addiction Rates.
---
The Sudan Interim Poverty Reduction Strategy Paper (1)

Next >