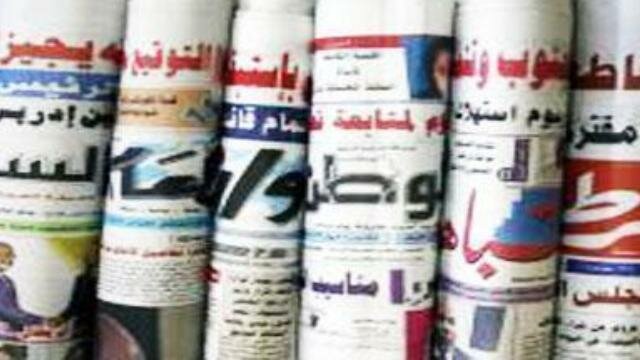 Al-Sudani

* Ghandour Withdraws His Resignation after the Intervention of Leading Figures in the Government
.
* Ethiopia: Our Relations with Sudan Is the Best in Africa.
* Government Provides SDG60 Million to Complete Zalinji Airport.


Akhbar Al-Youm
* Afwerki Accuses Foreign Parties of Dragging Sudan and Eritrea to Tug of War.
* Khartoum State Denies Increase in Transport Tariff.
* Ethiopian Premier to Visit Egypt on Wednesday.
* NCP Shura Council Concludes Sessions, Recommends Nominating Al Bashir.

Assayha
* RSF Arrive in Kassala.
* Parliament Summons Economic Sector Minister for the Second Time on Price Hikes.
* UN, AU Warn South Sudan to Stop Fighting.
* Meroe Locality Reveals Cultivation of 3 Thousand Acres of Wheat.

Al-Youm Al-Tali
* Exportation Activities Stopped in Port Sudan Due to Lack of Containers.
* Parliament Economic Committee Denies Economic Collapse.
* AUHIP Announces Resumption of Talks in February.
* MP Calls for Reduction of Government and Dessolving States' Councils.


Al-Mijhar
* 30 Years Imprisonment for Drugs Dealers in Darfur.
* NCP National Shura Council to Meet Friday.
* Sudan Elected Member in UNICEF Executive Council
* Hassabo Chairs Human Rights Report Committee

Al-Ray Al-Aam
* Consumer Protection Police Forces Formed.
* Islamic Movement Directs More Concern on People's Need.
* Farmers Urge Increase of Water Flow in Wadi Halfa.
* Increase in Sorghum and Sesame Production.

Al-Intibaha
* Government Announces Precautions for Any Military Developments in Eastern Sudan.
* Health Ministry: 60% of Deceases Are Due to Deterioration of Environment.
* Workers Union Lead Moves to Stop Price Hikes.
* UK Special Envoy Arrives in Sudan.

Al-Sahafa
* Ghandour: Some Parties Are Threatening Our Security.
* Ethiopian Premier: We Are with Sudan through Thick and Thin
* International Team Reveals Juba's and Libyan Groups to Darfur Insurgents.
* Publishers Decide to Increase the Newspaper Price to SDG5.
---
Religious freedoms in Sudan ... Reality that does not require Western...

Next >