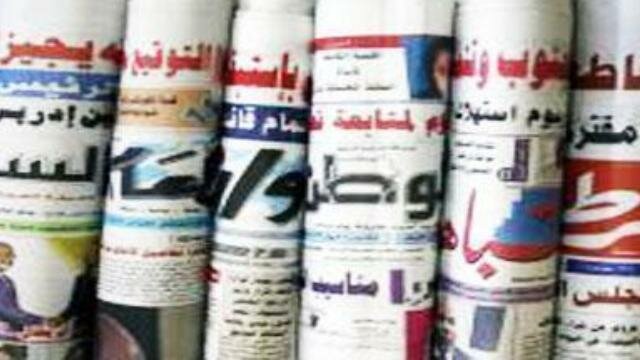 Al-Sudani

* Details of the Emergency Landing of a Turkish Aircraft in Khartoum Airport.
* Saudi Arabia Intercepts Ballistic Missile in Khamis Mishait, South of the Kingdom.
* Ministers of Egypt and Italy Discuss Issues Including GERD.
* Farmers Complain from the High Prices of Fodder in Gezira Scheme.


Akhbar Al-Youm
* Technical Errors Leads to Stoppage of WhatsApp Service in Several Countries.
* Al Bashir Attends a Workshop on Elections and the Future of Political Practice.
* Hadandawa Tribe Supports Reelection of Al Bashir for Presidency in 2020.
* Sudan Leads UN Conference on Minorities Affairs.

Assayha
* UN Report: Uganda Involved in Supporting the Field Operations of SPLA in South Sudan.
* President Pledges to Support North Kassala Localities in Development.
* Khartoum Hosts Anti-Extremism Forum.
* Minister of Tourism Inspects Archeological Sites in Northern State.

Al-Youm Al-Tali

* President Pledges to Implement Eastern Sudan Agreement.
* Ali Elhaj Leaves for Germany to Arrange for the Next Stage.
* Qatar Receives Kuwaiti Invitation to Participate in Gulf Summit.
* Sudan to Participate in OPEC Meetings.


Akhir Lahza
* Calls for Developing Conventional Mining in West Darfur.
* Sports City Director: We Are Ready to Confront Any Accusations.
* DUP: 2005 Constitution Is Perfect and Only Needs Some Amendments.
* Mawlid Incidents Patients Discharged from the Hospital.
Al-Ray Al-Aam
* Summit between Al Bashir and Debby today in Ndjamena.
* Khartoum Commissioner: No Crimes Recorded during Mawlid Celebrations.
* British Magazine Expects Lifting Sudan from Terrorism List.

Al-Intibaha
* Plot to Assassinate Machar.
* New Information about the Explosion in Mawlid Area in Omdurman.
* Al Bashir to Kassala Citizens: My Advice to You Is to Support the Governor.
* Minerals Ministry Reveals Weak Revenues from Jebel Amir Mines in 2017.

Al-Sahafa
* Emergency Landing of Turkish Aircraft in Khartoum Airport.
* Moscow and Cairo Discuss Establishing Military Bases
* Ahli Shendi Crowned Champion of Sudan Cup for the First Time.
* President Flies to Chad Today.
---
Why Does Vladimir Putin Care About Sudan?

Daily Arabic Newspapers Headlines Wednesday, 29th November, 2017

Next >