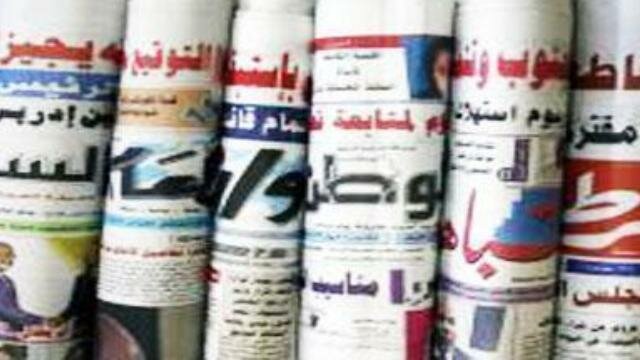 Al-Sudani
* Chadian Security Director: Musa Hilal Is Not a Threatening Force
.
* Parliament Official reveals Government Clear Vision after Lifting of Sanctions.
* 75% of University of Khartoum Teaching Staff Are Retired Lecturers Due to the Brain Drain.
* President Accepts the Resignation of Deputy Auditor General.

Akhbar Al-Youm
* Ex-finance Minister: Lifting of Sanctions will Not Resolve Sudan Economical Problem.
* NCP: New Sudan Project Dead.
* Bar Association Chief: Sudan Prepared for Pro-sanctions Lifting Stage.
* Al Bashir Invited to Attend Youth Conference in Cairo.

Assayha
* 2.214 Sudanese Nationals Suffering in Saudi Arabia.
* Machar Troops Control Upper Nile Capital.
* FVP Pledges to Provide Main Infrastructure Projects Funds.
* British Institutions Study Local Governance Experience in Three States.

Al-Youm Al-Tali
* Procedures for the Return of University of Khartoum Students' Union.
* Gezira State Official: Eila Doesn't Own Companies Working in the State.
* Sudan Elected Member in Global Counterterrorism Forum.
* PCP Calls for Expediting Freedoms Restrictions Law Amendments.


Akhir Lahza
* Khartoum Governor: Selling Tea Is Not Suitable for Women.
* Al-Sisi Invites Al Bashir to Visit Egypt.
* NCP Slams those Who Call for Normalization with Israel.
* Government Condemns Las Vegas Incident.
Al-Ray Al-Aam
* FVP Directs Supporting Productivity Increase Projects in Khartoum.
* Ibrahim Mahmoud Calls for Transparency in NCP Membership.
* UN: We are with Sudan in the Same Direction towards Achieving Sustainable Development.
* Limited Reshuffle amid the Ambassadors.

Al-Intibaha
* Washington Presents the Last Offer to Salva Kiir to Step-down.
* MPS Complain the Hikes of  Commodities' Prices.
* Journalists' Wages Regulations Tabled before the Parliament.
* Clashes in South Sudan Prevent two ICRC from Landing in Wat.

Al-Sahafa
* Ex-finance Minister Expects More US Exchange Rate Decline.
* SPLM-N: We Did Not Invite Agar and Arman to Kauda Conference.
* President of Somalia Aries in Khartoum.
* Parliament Speaker Calls on Cabinet to Review the MPs Recommendations.
---
MOROCCO BEQUEATH ENERGY LESSON TO AFRICAN COUNTRIES

Next >