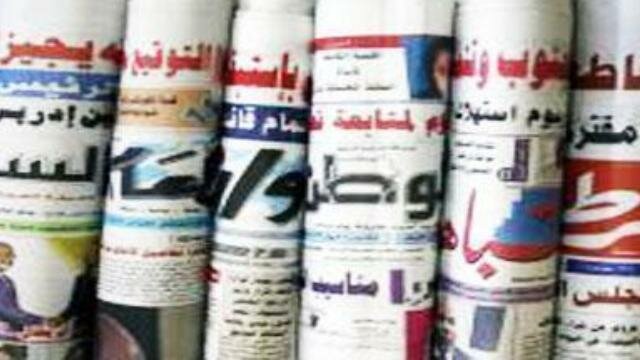 Al-Sudani
* European Banks Express Desire to Deal with Sudanese Banks
.
* Imminent Reshuffles among the Undersecretaries.
* Representatives of 49 States Arrive in Khartoum to Participate in CISSA Conference.
* Foreign Ministry Condemns Kalma Incidents.

Akhbar Al-Youm
* Al Bashir: Sudanese Army Aborted the Plans of the Enemies of Sudan.
* Economic Experts Expects Imminent US Decision on Permanent Lifting of US Sanctions.
* South Darfur Governor Reveals the Details of Kalma Incidents.
* Strict Measures in Students' Hostels

Assayha
* Al Bashir: I Have Strategic Storage of Heroes.
* Al-Mahdi: Popular Mobilization Will Lead to the Third Arab Spring in Sudan.
* Ghandour Discusses with His Russian Counterpart the US Sanctions.
* Saudi Arabia to Organize the First Trade Forum in Khartoum.

Al-Youm Al-Tali
* CISSA Monitors IS Penetration into Africa
* 4 African States out of CISSA Membership.
* Juba Paid US$1 Billion and 600 Thousand as Oil Transit Fees out of US$3 Billion.
* Presidential Aide Flies to Chad.


Akhir Lahza
* Ali El-Haj: Islamic Movement Is the One Which Seceded South Sudan.
* South Sudan Opposition Kidnaps 25 Government Officials.
* Foreign Ministry: Abdulwahid Cells behind Kalma Incidents.
* Qatar Affirms Continuation of Supporting Sudan.
Al-Ray Al-Aam
* CISSA Leaders to Meet in Khartoum on Combating Terrorism.
* Juba Supports Lifting of Sanctions on Sudan.
* Medical Convoy to South Darfur.
* Cultivation of 45 Thousand Acres of Sorghum and Cotton in Al-Suki Projects.

Al-Intibaha
* New Clashes in Kalma IDPs Camp.
* PCP: We Don't Want to Talk on Kalma Incidents.
* Directives to Remove Brick Factories in Khartoum State.
* CISSA Forwards Comprehensive African Solution.

Al-Sahafa
* Al Bashir: Rapid Support Forces Defeated the Insurgency.
* Khartoum Hosts CISSA Conference.
* Ghandour Meets Bahrain Foreign Minister.
* Sudanese Embassy in China Honours Poet Nidal El-Haj.
---
Daily Arabic Newspapers Headlines Saturday, 23rd September, 2017

Next >