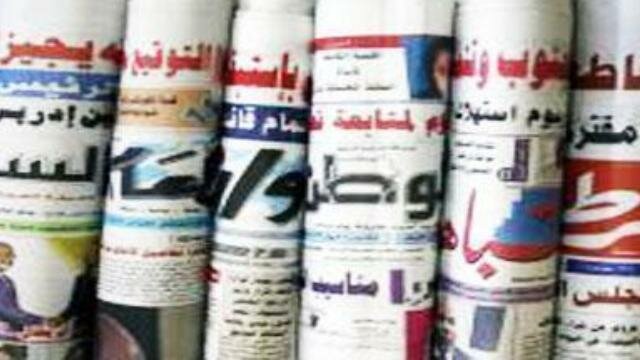 Al-Sudani

* Foreign Ministry: Lifting Ban Travel to USA an Important Development in Relations with US Administration
.
* Aircrafts and Two Battalions to Destroy Drug Farms in South Darfur.
* MP Calls for Using Bicycles as Transport Mean.


Akhbar Al-Youm
* Health Ministry Admits Gap in Medical Cadres.
* Juba Government Accused of Targeting Humanitarian Organizations Workers.
* Parliament Transport Committee Discusses the Delay of New Airport Construction.
* European Experts to Discuss Poverty and Displacement in Khartoum.

Assayha
* Salva Kiir: I'm Not Happy and My People are Starving.
* Foreign Ministry: UN Travel Ban Lifting Is a Natural Outcome of Prolonged Dialogue
* Presidential Aide: No Retract from Arms' Collection Campaign.
* Sudanese and Chadian Ruling Parties Reach Economical Understandings.

Al-Youm Al-Tali
* Salva Kiir Shoulder SPLA the Responsibility of AIDS Outbreak in South Sudan.
* Arrangements in Khartoum to Include Garbage Collection in the Electricity Bill
* CISSA Experts Meetings Convene
* Gedarif Farmers Praise the New Plastic Silos Experience.


Akhir Lahza
* High Rate of Female Deaths Due to Using Beauty Creams.
* Defence Minister: Egyptian Violations in Halayeb Are Normal.
* Court Refuses to Release Sudacal.
* Sudan Aspires for Normal Relations with Washington.
Al-Ray Al-Aam
* Al Bashir to Tour Arab Capitals for Sudan Reconstruction Conference Support.
* Al Bashir: Arms Collection Is Strategic Decision.
* Defence Minister: Abdulwahid Attempted to Foil Al Bashir's Visit to Kalma IDPs Camp.
* Traffic Police Intervene to Stop Public Transport Chaos.

Al-Intibaha
* Presidency: Any Positive Step from Al-Hilu will Be Met By Two Steps from the Government
* Machar's Troops Arrest 14  of Salva Kiir Spies
* West Kordofan Governor Dissolves His Government.
* Salva Kiir Demands S. Sudan Citizens to Open New Chapter.

Al-Sahafa
* S. Darfur Governor: IDPs Used Machineguns in Kalma Camp.
* Government Pledges to Take Strict Measures on Travelers to the USA.
* Chadian President Receives Message from Al Bashir.
* Salva Kiir Pledges to Bring Peace Back to South Sudan.
---
CISSA First Forum Objectives

Next >