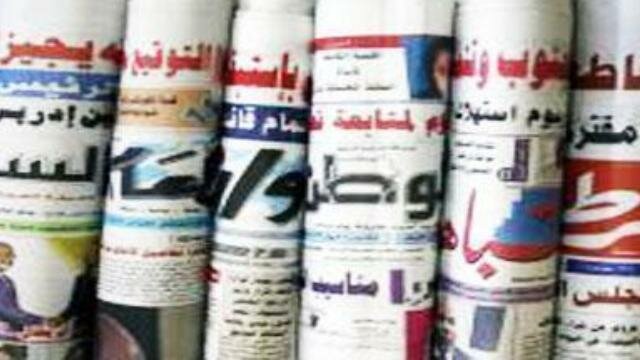 Al-Sudani

* Mass Rallies Receive Al Bashir in Giraida
.
* Sudan Elected in the International Atomic Energy Agency (IAEA) Council of Governors
* Machar: IGAD Is No More Qualified to Lead Peace Process in South Sudan.
* Foreign Minister Participates in the UN Meeting on Libya.

Akbar Al-Youm
* Al Bashir: We Repulsed War Devil from Darfur.
* Ghandour Discusses with Shukri the Presidential Committee Meeting in October.
* Sudan Participates in Political Consultation Session between African and Chinese Foreign Ministers.
* Private Sector to Organize Sudanese Industrialism Day in Juba Soon.

Assayha
* US Forwards Proposal for the Continuation of the Independent Human Rights Expert.
* Ghandour Emphasizes the Important Role of Sudan in Migrations and Refugees Issues.
* Sudan and USA Discuss Amending the USAID to Development Assistance.
* Defence Ministry Affirms Readiness to Host EASF Drill.

Al-Youm Al-Tali
* Libyan Forces Clash with Darfur Mercenaries.
* FIFA Warns against Government Interference in Sudanese Football Federation Elections.
* US: Upcoming Elections in South Sudan will be Disastrous.
* Sudan and USA Agree to Dialogue on Reconstruction and Development Issues.


Akhir Lahza
* Al Bashir: We Don't Lie and We Are not Votes' Beggars.
* Presidency Receives Memo Calling  for Sacking Gezira Governor
* Meteorology Forecasts Decline in Temperature all over Sudan.
* National Dialogue Mechanism to Meet on Sunday.

Al-Ray Al-Aam
* Al Bashir: We Pledge to Provide Security, Health and Education.
* BADEA Funds the Recruitment of 2 Thousand Graduates.
* Private Sector Affirms Readiness to Implement Economic Cooperation Agreements with South Sudan.
* Inflation Hits 34.61% for August.

Al-Intibaha
* Al Bashir: Options Are Open in 2020 Elections.
* Trump Conveys an Envoy to Juba.
* Ghandour: Transparency and Accountability Key of Joint Work between China and Africa.
* South Sudan Government Demands International Support to End the Crisis.

Al-Sahafa
* Al Bashir in Darfur: We Opened Peace Chapter.
* Salva Kiir to Visit Khartoum Next Week.
* Strict Actions against Violating Private Schools.
* Dindir River Level Rises to 13.60 meters.
---
Crises and Deaths of Citizens as Politicians Get Rich on S. Sudan...

Stabilization and Human Rights for Internally Displaced Persons in Darfur

Next >