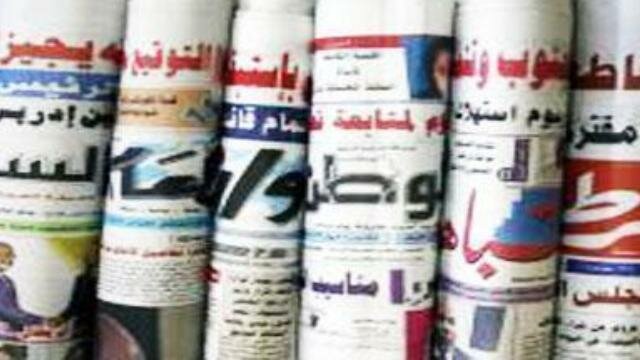 Al-Sudani

* Al Bashir: Border with Chad Will Not Be for Entering Weapons or Harbouring Opposition
.
* UN Administration Cancels Temporary Protection for Sudanese Nationals.
* Khartoum Airport Closed for 40 Days
* Ghandour Meets UAE and Kuwait Counterparts in New York.

Akhbar Al-Youm
* Al Bashir Pledges to Complete Development and Services Projects in Darfur.
* Sudanese High Level Delegation Arrives in Khartoum, Salva Kiir to Arrive Next Week.
* Agar and Arman Fail to Enter Kauda and Inqasana.
* Sand Storm Hits El-Fashir.

Assayha
* Khartoum State: There is Enough Flour.
* Al Bashir Calls for the Return of IDPs of Darfur.
* Sudan and Ethiopia Agree to Fight Rebels and Protect the Borders.
* South Darfur Governor Affirms Al Bashir' Visit to Kalma IDPs Camp.

Al-Youm Al-Tali
* Bakri Directs Students' Movement to Play Bigger Role in Arms Collection Campaign.
* High Committee Formed to Curb Child Labour.
* Calls for Finance Ministry to Reduce Taxation on Public Companies.
* Sudan Pilgrims Raise a Complaint to the Parliament on Their Suffering


Akhir Lahza
* UAE Invites Defence Minister to Dubai Aviation Exhibition.
* Meteorology Predicts Light Rains.
* Khartoum State Warns Private Schools against Violating Education Act.
* Blue Nile Governor: I Support Separating Negotiations' Course of the Two Areas.
Al-Ray Al-Aam
* Shadad and Al-Arbab Compete on the Sudanese Football Federation Presidency.
* Al Bashir Launches CBOS Branch in Gineina.
* Mineral's Sector Upgrading Workshop Kicks-off
* Khartoum State Government: There Is an Idle in Each House in Greater Khartoum.

Al-Intibaha
* President: I'll Sack Any Governor Who Fails to Improve Education in His State.
* Traffic Accident in Abu Hamad Claims the Lives of 4 Conventional Miners.
* Blue Nile Expects Attacks from the SPLM-N Troops.
* Sudakal Elected President of Al-Merreikh Football Club.

Al-Sahafa
* Washington Admits Improvement of Situations in Sudan.
* Khartoum Governor Directs Issuing Land Transactions Regulations.
* Abdulwahid Directs His Forces in Kampala to Move to Juba.
* UK Ambassador Expresses Optimism on Lifting of US Sanctions.
---
Challenges of Oil and Gas Industry in S. Sudan

Next >