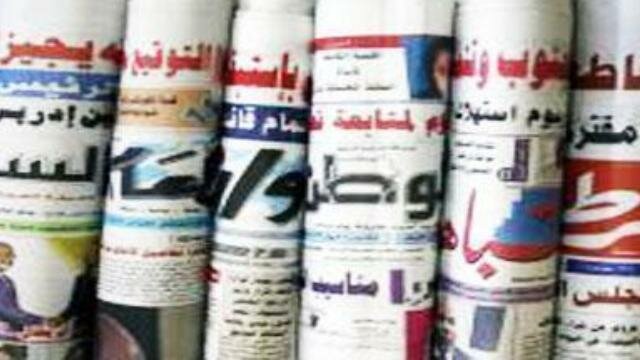 Al-Sudani:
*Workers Trade Union: The increases in salaries do not exceed 400 pounds and negotiations to improve salaries of the private sector are continued.
*Independent deputies at Parliament threaten to withdraw from Parliament sittings for one week in protest of Finance Ministry's decisions.
*National Congress: Economic reforms are very painful surgery.
*The Cooperative Institution launches today delivery of consumer goods to workers in Khartoum.

Akher Lahza:
*Imminent decision on reduction of government expenditure expected.
Unionist group (origin) boycotts sittings of Parliament.*
*Al Bashir: Sum fixed for microfinance is nothing before the inflation.
*Umma Party (Collective Leadership): Mubarak Al-Fadil is a symbol of failure.

Akhbar Al-Yom:
*Traffic rates increased by 30% in all states, excluding Khartoum.
* Teachesrs Trade Union denies its call on Deputy Speaker to apologize.
*Dr. Sabir Mohamed Al-Hassan calls for correction of some economic measures.

Al-Intibaha:
*Ruling Party calls for patience and bearing painful surgery.
*South Sudan delivers ammunitions to the North Sector.
*Sudanese Scholars advice government to deal in wisdom with people's anger.
*Studying at Al-Fasher University suspended and dismissal of students at Medicine Faculty.
    
Al-Mijhar:
*People's Congress reveals its meeting with National Congress for suspending increases in fuel and electricity prices.
*First Vice President: Recent economic reforms are for the interest of production and producers.
*South Sudan opposition: Juba provided new military supply to the North Sector.
*America to select on Tuesday a new president to replace Obama.

Al-Rai Al-Am:
*Speaker of Parliament: Recent economic measures were constitutional.
*Khartoum State Police: Situation is stable and no riot information to police were reported.
*Deputy Speaker of Parliament: My statements on teachers were fabricated.
*Vice -President: We will not Tolerate Negligence in medical sector


Al-Yom Al-Tali:
*Minister of Electricity: Housing sector will not be affected by increases in prices.
*Increases in customs included cars, rickshaws, dairy, furniture, soap and iron.
*Khartoum State's Assembly calls for measures to prevent traffic fare.
*Minister of Finance: Lifting subsidy did not include the agricultural and industrial sectors.
    
Al-Sayha:
*Customs on cars increased by 130 and benzene price will cope with international rates.
*Fierce clashes between Lions of Bahr Al-Ghazal and movements of Darfur.
*Independent deputies call for discussing price increases at Parliament.

Al-Sahafa:
*Circulars to be issued on reduction of government expenditure in addition to decisions to encourage production.
*11 persons killed and 16 others wounded in Juba.
*Businessmen Union approves increase in private sector's salaries and wages.
*Abdul-Wahid looses all Jebel Marra after surrender of his general commander and forces.
*Minister of Finance: New measures to counter changes in foreign currency black market.
---
The Speech of His Excellency Mr. Ahmed Saad Omer Minister of Cabinet...

Daily Arabic Headlines Sunday, November 6, 2016

Next >