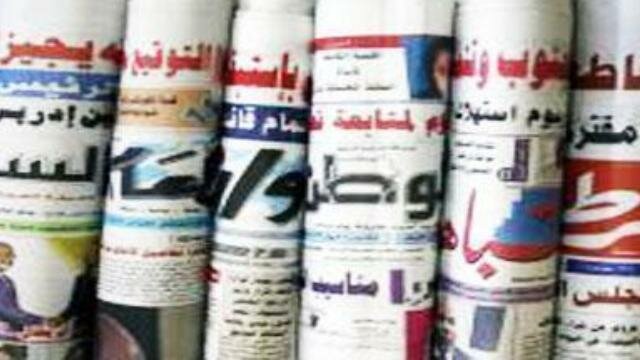 Al-Sudani
* Ethiopian Parliament Endorses State of Emergency.
* Juba Summons UN Official, Calls for Independent Investigation on Sexual Crimes.
* Libyan Leadership Affirms Involvement of Darfur Armed Groups in Sabha Clashes.
* Economic Expert Calls for Reviewing Gold Exportation Policies.

Akhbar Al-Youm
* South Darfur Governor Pledges to Provide Services to All Villages.
* Interior Minister Chairs Sudan School Certificate Control Committee.
* Gezira University Discusses the Implementation of US$700 Thousand Grant from Kenana Sugar Company.
* UN Official Calls for Setting a Framework to Prevent Violence against Women.

Assayha
* Saudi Arabia Selects Sudanese Calligrapher to Decorate the Kaaba.
* NCP Demands its Membership to Produce Initiative for Sudan Revival.
* Justice Ministry Affirms Government Concern on Women Issues.
* Chad the First Country to Join the International Water and Lakes Agreement

Al-Youm Al-Tali
* 20 Tons of Sorghum to Poultry Farms
* High Productivity of Cotton and Sorghum in Sinnar.
* South Darfur Governor: Firearms Collection will Continue till 2025.
* Workers' Union Expects End of Liquidity Crisis within Few Days.

Al-Mijhar
* Sudanese -German Investment Forum Convenes.
* Meningitis Claims the Lives of 18 Citizens on South Sudan.
* Kuwaiti Commander Reveals Military Maneuvers with Sudan Soon.
* Opposition to Meet in Paris within Two Weeks.
 
Al-Ray Al-Aam
* Sudan Ambassador to Cairo to Resume Activities on Monday.
* Ghandour and Abdul Halim Participate in Arab League Meeting Tuesday.
* Port Sudan Airport Customs Authorities Abort an Attempt of Smuggling Foreign Currency.
* Basic Level Exams to Start on Monday.


Al-Intibaha
* Egyptians Involved in SPLA Attack in South Kordofan.
* MP Proposes Extension of Five Year to Al Bashir.
* Saudi Crown Prince to Visit Cairo.
* Arab League to Meet Next Week.

Al-Sahafa
* 9 Opposition Parties in South Sudan to Form an Alliance.
* Mass Displacement of Families in South Libya.
* Parliament to Meet on Constitution Amendment.
* 154 Thousand Pupils Sit for Basic Level Exams in Khartoum State.
---
MTN-Sudan and Environment Partners Organize the 9th Environment Forum

Next >