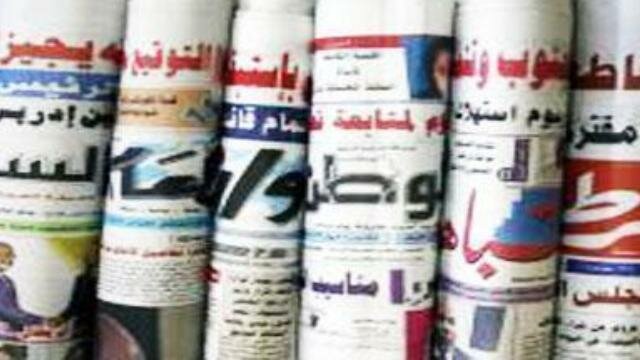 Al-Sudani
* Al Bashir Reveals Essential Legislation on Political Practice
.
* Imminent Decision on Increasing the Salaries.
* Al Bashir: Medical Services Are Improving in Sudan.
* Government Reveals Discussion to Provide Funding for Oil Production Increase.

Akhbar Al-Youm
* Attorney General Demands Death Sentence to the Rapist of the Three Kids.
* Ambassador Abdul Mahmoud: My Return to Cairo Is a New Commitment.
* White Nile Hosts more than 148 Thousand Refugees from South Sudan.
* Health Research National Conference to Start Tomorrow.

Assayha
* Authorities Seize Smuggled Drugs in Kassala and Rive Nile States.
* Authorities Arrest Human Trafficking Network.
* Sudan Attracts US$1.4 Billion, More Flow of Foreign Currency on Its Way to Khartoum.
* Mustafa Osman Affirms Reinforcement of Sudan Mission in Geneva.

Al-Youm Al-Tali
* Al Bashir Launches Al-Zahra  Medical Factory
* 1086  Sudanese Pupils Sit for Basic Level Exams in Cairo.
* 3500 Soldiers Deployed to Secure Basic Level Exams.
* Germany Pledges to Continue Providing Support to Sudan.

Al-Mijhar
* Al Bashir Constitution-Making Committee will Include Everybody.
* Al Bashir Grants Judiciary Achievement Medal.
* Russian National Shoots 5 Citizens in Berber Locality in Mining Exploration Site
* Parliament Health Committee Warns against a Gap in Medicine
Al-Ray Al-Aam
* Ghandour: Stability in Sudan Has Its Reflection on the Region's Security.
* Khartoum Governor Rings the Bell of Basic Level Exams
* Workers Union Demands Increase of Salaries by the End of the First Quarter of 2018.
* Petroleum Ministry: No Shortages in Diesel Supply

Al-Intibaha
* Egyptian Army Loots a Truck from a Sudanese National.
* NCP Leading Figure: Consultation on Ministerial Reshuffle Not Completed.
* Maintenance of Al-Jaili Refinery Starts.
* UNAMIS Reject the Participation of Juba in the Investigation on Sexual Abuses.

Al-Sahafa
* Gezira/Sudan Bank Raises Its Capital to US$200 Million.
* Abyei Leaders Demand UNSFA to Protect Civilians from SPLA Attacks.
* UK Sponsors a Conference of Upgrading Sudan Investments.
* Presidency Inspects the Situations in the Blue Nile State.


---
Positive Developments in Provision of Support to Areas of Voluntary...

Boarders Trade with the Neighbouring Countries

Next >