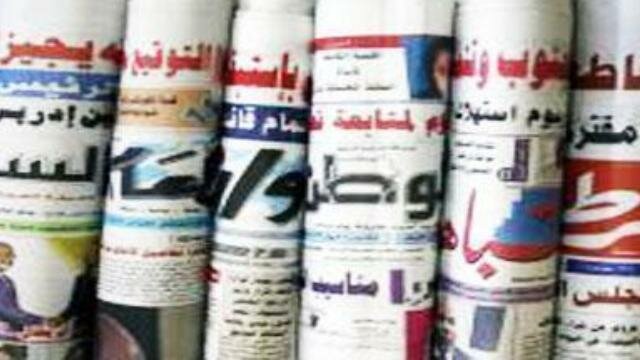 Al-Sudani
* Cabinet Announces 9197 As Hot Line to Receive Complaints from Citizens
.
* NISS: Lifting of Sanctions Came As a result of Strict Coordination among the State's Institutions
* Plantation of 250 Thousand Acres of Genetic Modified Cotton in Gezira.
* Justice Minister and Attorney General Discuss the Division of the Ministry's Assets.

Akhbar Al-Youm
* Emir of Kuwait Promises to Support Sudan in the UNSC.
* CBOS Enters Into Agreements with Foreign Banks on Importing Wheat, Lubricants and Drugs.
* Presidency Hails the Roles of Students' Unions.
* 15 Thousand Chadian Refugees in Central Darfur.

Assayha
*  US$200 Foreign Facilitations to Import Wheat and Drugs.
* UN Criticizes US Stance towards S. Sudan.
* US$ 9 Million from UN to Fight Terrorism and Extermism.
*Lakes Summit Discusses S. Sudan Crisis.

Al-Youm Al-Tali
*  Ghandour: Complications Behind Lifting Sudan Name from Terrorism Sponsoring States.
* Khartoum Sends Condolences on the Death of 53 Egyptian Soldiers.
* Al-Mahdi Downplays the Effect of Lifting US Sanctions.
* Juba Rejects Separate Talks with Opposition Forces.

Akhir Lahza
*  Italian Donation to Complete Kassala reference Hospital.
* Nafie: Political Parties Do Not Differentiate between National Interests and It Narrow Interests.
* Finance Ministry: New Approaches in the Banking Sector.
*   Northern State Legislative Council Bans Firearms Usage in Ceremonies.

Al-Intibaha
* Riek Machar Spokesperson Dies in Khartoum.
* NISS: Promoting Rumours Became the Only Weapon of the Armed Groups.
* Al Bashir: Ready to Military Cooperation and Joint Defence with Kuwait.
* UNAMID Withdraws from 11 Locations in Darfur.

Al-Sahafa
* Talks Between Al Bashir Emir of Kuwait to Boost Relations.
* Canadian Company to Resume Activities in Oil Sector.
* VP Directs Grievances Chamber to Expedite Resolving the Issues.
* NISS: Security Conditions At Its Best.

Al-Ray Al-Aam
* SRF Leaders Exchange Insulations in a Forum in Paris.
* Arman: Self-determination Issue Complicated the Political Strategic Line of the SPLM-N.
* EU Allocates 60 Million Euros to Implement Projects in Sudan.
* Customs Authority Director: Lifting of Sanctions will Affect the Importation Positively.
---
Where Does the U.S. Have Troops in Africa, and Why?

Daily Arabic Newspapers Headlines Sunday October 22, 2017

Next >