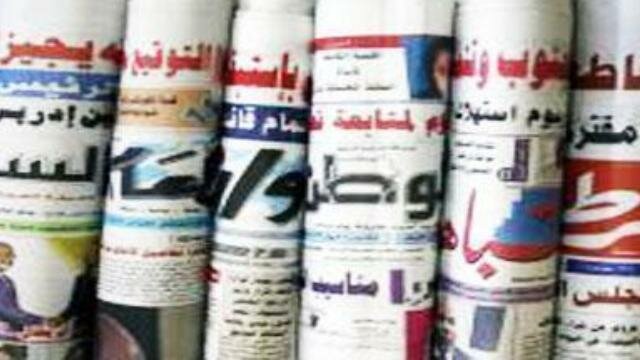 Al-Sudani
* Al Bashir Starts Visit to Kuwait and Qatar
.
* Privatizing of 30 Military and Security Companies.
* Egypt and Ethiopia Agree on Sudanese Proposal on Running GERD.
* US High Level Delegation from International Education Institute Visits Sudan.

Akhbar Al-Youm
* FM Announces Kick-off Dialogue with US Administration Next November.
* Blue Nile State Dispatches Medical Convoy.
* Dr Ahmed Bilal reveals the Collection of Big Quantities of Firearms.
* UNAMID Evacuates Its HQ in El-Fashir, Hands It to North Darfur Government.

Assayha
*  Ghandour: Sudan Rejects Two US Conditions on Terrorism  List Issue.
* Ghandour: No Secret Items in the Dialogue with the US Administration.
* Sudanese/American Talks on Education.
* 40 Thousand Citizens Return to Their Home Villages in the Blue Nile State.

Al-Youm Al-Tali
*  Ghandour: Complications Behind Lifting Sudan Name from Terrorism Sponsoring States.
* Khartoum Sends Condolences on the Death of 53 Egyptian Soldiers.
* Al-Mahdi Downplays the Effect of Lifting US Sanctions.
* Juba Rejects Separate Talks with Opposition Forces.

Akhir Lahza
*  Disputes between Minnawi and Jibril over the Mandate of the SRF Chief.
* Northern States Sets Strict Measure in Schools.
*Ghandour: 22 Secret Meetings Contributed in Lifting US Sanctions.
* Al-Mahdi Threatens the Government by popular Uprising.

Al-Intibaha
* Leading Figures in Juba Describes Deng Alor as Betrayer.
* Hamdi: Writing Off Foreign Debts Is a Political Decision.
* Government: No Compensations on Firearms Collection.
* Ruling party Endorses 1000 Days Plan.

Al-Sahafa
* Ghandour: We Didn't Discuss with Americans Any Item Out of the Five Tracks.
* Irrigation Minister Reveals the Launching of Two Power Stations.
* High Level US Delegation Arrives to pave Way for US Companies to Enter Into Sudanese Investment.
* Health Insurance Admits Weakness in Cover informal Sector.

Al-Ray Al-Aam
* Ghandour: Next Stage of Dialogue with US Administration Is over Lifting Sudan from  the list Terrorism Sponsoring States.
* Al Bashir Directs Health Authorities to Provide Medical Support to Somali Injured Personnel.
* Rights Groups Criticize Nominating Mugabe as Goodwill Ambassador.
* Russian Delegation Expresses Desire to Invest in Oil and Tourism.
---
Daily Arabic Newspapers Headlines Saturday October 21, 2017

Next >