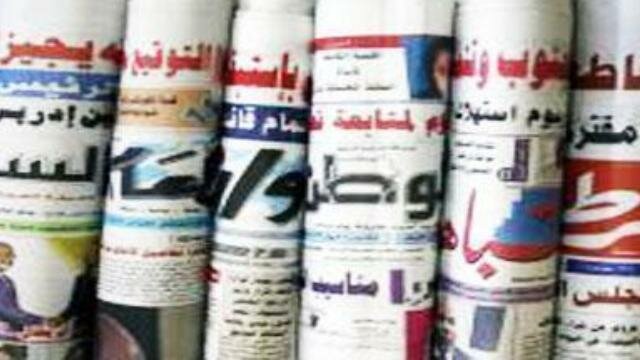 Al-Sudani
* NCP: No Trends for the Return of Old Guards
.
* NISS Seizes Biggest Amount of Narcotics West of Omdurman.
* Al Bashir and Niger President Discuss Migration and the Developments in Libya.
* Interior Minister: 2 Million Refugees in Sudan.

Akhbar Al-Youm
* Darfur State Welcome the Start of Forceful Collection of Firearms Campaign.
* Al-Hilu Orders the Expulsion of SPLM-N Leading Figures to South Sudan.
* Sudan and Arab League Discuss Arrangement of Reconstruction Conference in Sudan.
* Bahri University Hosts the Meetings of the Sudanese Universities Union.

Assayha
*  White Nile Floods Hit Getaina Locality.
* Irrigations Ministers of Egypt,  Sudan and Ethiopia Inspect GERD.
* Presidency Affirms Concern on Teachers' Issues.
* Sudanese/British Agreement on Exchanging Information on Terrorism and Extremism.

Al-Youm Al-Tali
*  Al Bashir to Start Arab States Tour by Visiting Kuwait.
* Government: No Trend to Expel South Sudan Refugees.
* Early Warning Network Expects Average Harvest this Year.
* South Kordofan Governor Announces the Completion of Dalami Power Station.

Akhir Lahza
* Hassabo: 60% of the Budget for the Poor Sector.
* Ghandour to Budapest by the End of the Month.
* SDG254 Million Zakat Revenue in 9 Months.
* South Kordofan Governor: Our Strategic Goal is to Stop War.

Al-Intibaha
* Aborted Coup Attempt in South Sudan.
* Parliament Reserves, Returns Insurance Monitoring Act to Finance Committee.
* Interior Ministry: We Receive 1000 Application of Refuge Daily.
* Presidential Aide Calls for Providing Guarantees for Fair and Free Elections.

Al-Sahafa
* Sudan Condemns the Terrorist Bombing in Mogadishu.
* FVP Launches Harvest in Sennar.
* Kassala: Joint Patrols on the Borders to Prevent Illegal Migration.
* Korean Ambassador: Sudanese Markets will Attract Our Companies.

Al-Ray Al-Aam
* Imminent Directives on Sugar Production and Price.
* Nuba Mountain Leading Figures Inform Presidency on Their rejection to Self-determination.
* South Sudan Imports Commodities from Sudan worth US$200 Million in the First Stage.
* IGAD Leaders to Meet Soon on South Sudan Peace.
---
Local Education Group LEG in Sudan

Next >