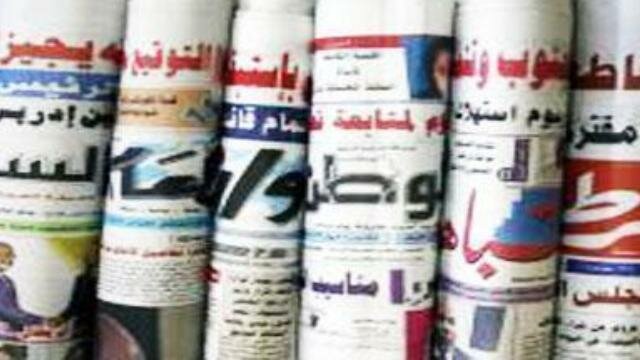 Al-Sudani
* High Level US Delegation to Arrive in Khartoum
.
* Al Bashir Directs the New Ambassadors to Benefit from Lifting of Sanctions in Strengthening the Partnerships.
* Mutaz Musa: We Refused Adding Services' Fees on Electricity Bill.
* Finance Ministry: Lifting of Sanctions will Positively Affect the Budget

Akhbar Al-Youm
* Minister of Industry: No Problem in Flour Flow.
* Ghandour: Strengthening Economical Relations Top Priority for the Sudanese Embassies.
* PCP Reveals Sudan's Endeavors to Lift Embargo on Qatar.
* Hassabo Lauds the Advanced System in detecting the Hidden Firearms.

Assayha
*  Health Ministry Announces Covering 95% of Population with Primary Health Care.
* 13 Thousand IDPs Return to their Home Villages in West Darfur.
* Calls for Transitional Government in South Sudan.
* New Health Projects to be Launched in Blue Nile State.


Al-Youm Al-Tali
*  Libyan Army Arrests JEM Leading Figure.
* Bakri: Lifting of Sanctions Pave the Way for Sudan to Join the WTO.
* Armed Group Attacks Abyei, Kills 2 Injures 6.
* Finance Ministry: No Retract from Lifting Subsidies.

Akhir Lahza
* Nuba Mountains Leading Figures Accuse Al-Hilu of Dividing the Region Tribally.
* Parliament Summons Minister of Transportation.
* Khartoum: resumption of Dialogue with Washington after Two Weeks.
* Finance Ministry: Foreign Currency Reserve will Have Positive Effect in Exchange Rate.

Al-Intibaha
* First US Oil Investment Delegation to Arrive by the End of the Week.
* Machar Meets S. Sudan Religious Leaders in South Africa.
* NCP Determines 4 Tracks for the pro-lifting of Sanctions' Stage.
* Presidency Affirms Keenness to Protect Consumers.



Al-Sahafa
* European and Arab Delegation to Resume Banking Transactions with Sudan.
* Al Bashir Lauds the Role of Diplomacy in Boosting Relations.
* 102  Million Euros Losses of Sudan in Flour Importation in Three Years.
* NCP: We Will Keep Balanced Foreign Relations.

Al-Ray Al-Aam
* NCP: Al Bashir Wants to Step Down, But the Party's Institutions Have the Final Say.
* Police Authorities Seize Heavy Weapons during Firearms Collection in East Darfur.
* Finance Ministry Reveals Contacts with IMF and World Bank to Finance Sudanese Institutions.
* Ghandour: Dialogue with Washington will Continue Next Month.
---
Weapons Collection Campaign: Inauguration of Modern Equipment and...

Next >