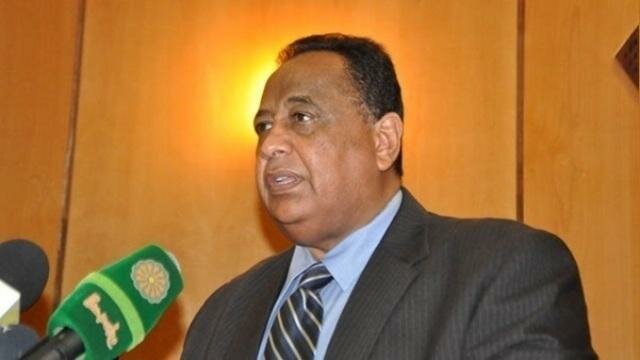 Khartoum- Minister of Foreign Affairs Prof. Ibrahim Ghandour has announced that Sudan and the United States of America have agreed on exchange of military Attaches
between the two countries, pointing out that the Sudanese Armed Forces has named a military attaché to the US State Department.
Prof. Ghandour said the Sudanese military attaché will soon join the Sudanese diplomatic mission in Washington.
The Minister affirmed in a press statement yesterday that there is no six-month deadline between Khartoum and Washington concerning lifting of all sanctions imposed on Sudan, but there is a US law that goes into effect in six months according to the roadmap that had been discussed by the two sides in the past period, which he said is affirmation of the commitment of the two sides to what they had agreed upon.
He explained that the two countries agreed that at the end of the roadmap the diplomatic representation between the two countries should be upgraded to ambassadorial level instead of the level of Charge d' Affaires, noting that the coming of a new administration in US led to delay in these procedures.
Prof. Ghandour said they maintain continuous contacts with the US Charge d' Affaires in Khartoum, who is keen on pushing forward the relations between his country and Sudan.
The Minister affirmed continuation of discussions with the American side on banning entry of Sudanese nationals to US and other issues, adding that the dialogue between the two sides is continuing to assure commitments of the two sides to their commitments.
Meanwhile, the Minister of Foreign Affairs affirmed that the Egyptian government has notified the Government of Sudan on exemption of the Sudanese nationals from the decision made recently by Cairo increasing fees on foreigners, saying that they are waiting for implementation of the exemption.
On the visit of the delegation of the European Union (EU) to Sudan, Ghandour said it affirms the openness in the relations between Khartoum and the EU, pointing out that a clear and frank dialogue had taken place between the European delegation and the envoys of the committee on Africa in the EU and the ambassadors concerned with the file in the Ministry of Foreign Affairs.
---
Visit by Chairman of Libyan Presidential Council to Sudan Postponed

SDG Advocate Sheikha Moza Visits Education and Employment Projects in...

Next >