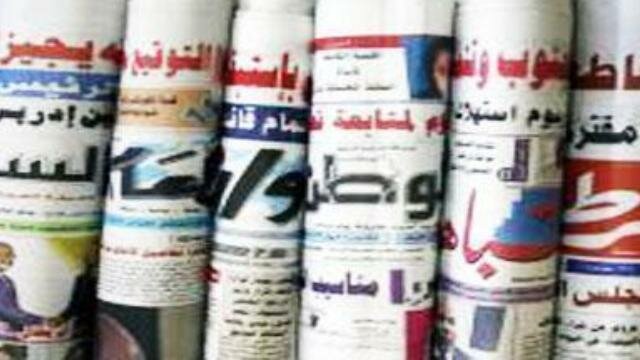 Al-Sudani
* Reduction of Liquidity Measures Continue, Dollar Exchange Rate Declined to SDG29.
* Gosh Started Mission with a Long Meeting with Economic Security.
* Resumption of Borders Trade with South Sudan.
* SAF: Ready to Meet the Military Training Requirements of Kuwait.

Akhbar Al-Youm
* South Darfur Starts Dismantling the IDP Camps.
* Government: Education Budget to be Increased to 20% in 2020
* Meteorology Warns against Dusty Storm.
* Finance Minister Deans African Development Bank to Support Sudan.

Assayha
* Sudan: Egypt Has Two Options, Either to Withdraw or Arbitration.
* Clashes Resume in South Sudan between Government and Opposition.
* MP: Ethiopian Citizens Built 12 Villages Inside Sudan Territories.
* Al Bashir Directs Mobilization of Youth to Increase Production.

Al-Youm Al-Tali
* Sudan Hints to Announce Halayeb as an Occupied Territory.
* Cairo Apologizes to Khartoum on Violations in Halayeb.
* MP Accuses East Sudan Reconstruction Fund of  Failure
* Opposition in South Sudan Boycotts Peace Talks in Addis Ababa.

Al-Mijhar
* NCP Leading Bureau to Discuss the Performance of the Party and the Government.
* Finance Ministry Tends to Move to Electronic Pound.
* Sudanese Australian Agreement to Improve Mining Sector in Sudan.
* Foreign Minister Congratulates His Polish Counterpart.
Al-Ray Al-Aam
* New Presidential Directives to Control Exchange Rate.
* 12 Thousand Apply for Electronic Marriage in Khartoum.
* International Cooperation Minister: Dollar Market Is under Control.
* Ministry of Industry Pledges to Remove Cement Industry Obstacles.

Al-Intibaha
* Fierce Clashes in Al-Nassir.
* Presidential Circular to Allow Free Movements of Tourists.
* Memo to the AU to Expedite the Administrative Arrangements in Abyei.
* Al-Mahdi Affirms His Return to Khartoum Soon.

Al-Sahafa
* Hassabo: The Government will Confront the Counterfeiters.
* West Darfur Governor Warns against the Entrance of Drugs and Liquor to the State.
* Kampala to Ease Exporting Arms to Juba.
* Committees to Restructure Broadcasting and TV Corporation.
---