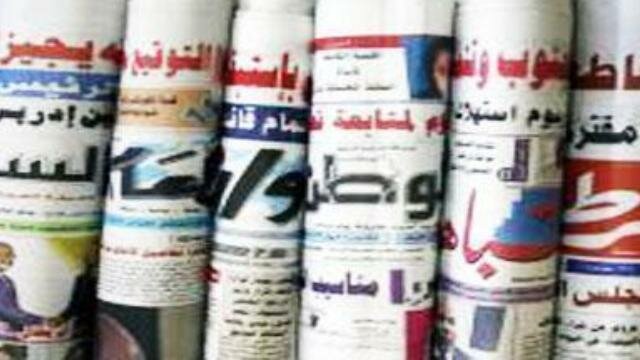 Al-Sudani

* The Return of Gosh as Director of NISS

* Defence Ministry: Army Supports Al Bashir
* Sudan and Kuwait Agree to Boost Military Cooperation.
* Coordination between Sudan and Ethiopia to Hand the Criminals and Warlords.

Akhbar Al-Youm
* Coincidence with Gosh Appointment Considerable Decline in Dollar Exchange Rate.
* Gosh Sworn-in as Director of NISS.
* UN: Sudan will Witness the Biggest Refugees Crises in Africa.
* Darfur Leading Figures Condemn UNSC Decision to Extend the Mandate of Experts.

Assayha
* South Sudan Leading Figure: US is Preparing to Charge Kiir and Machar.
* Agricultural Bank Denies Banning Dealing with Other Banks.
* Minerals Ministry: Arrangements to Collect Levies in Goods Instead of Cash.
* Plan to Attract 5 Million Tourists in 2018.

Al-Youm Al-Tali
* MP Calls for Releasing Musa Hilal or Bring Him to Book.
* Future Forces Alliance Demands the Urgent Implementation of the National Dialogue Outcome.
* PCP Calls for Providing Support to Regular Forces in Bordering Areas.
* Human Development Ministry Emphasizes the Importance of Training

Al-Mijhar
* UK Expects Fair and Free Election in Sudan in 2020.
* Directives to Committees' MPs Not to Talk to Media.
* MP Proposes to Bakri to Dialogue with the Rebels in the Bush.
* Promotions amid Diplomats in Foreign Ministry.
Al-Ray Al-Aam
* Interior Minister; We Target the Big Head in Drugs Trade.
* Reintegration of more than 7 Thousand Soldiers in 2017.
* Hassabo: Botana Forum Aims at Securing 7 Bordering States,
* Hikes in Medicine Prices and Shortage in Some Types.

Al-Intibaha
* UK: 2018 IS the Peace Year in the Two Areas and Darfur
* New Statistics: 60 Thousand Children with Cancer Cases in Sudan
* South Sudan Information Minister Welcomes the Return of Gosh.
* Minerals Ministry Pledges to Resolve Conventional Mining Problems.

Al-Sahafa
* Dr. Ghazi Calls for Broad Alliance in 2020 Election
* Bakri Chairs Consensus Requirements Follow-up Committee Meeting.
* Khartoum Governor Launches 7 Primary Health Centres in Sharq Al-Nil Locality.
* Scientific Agreements between Khartoum and Oman.
---