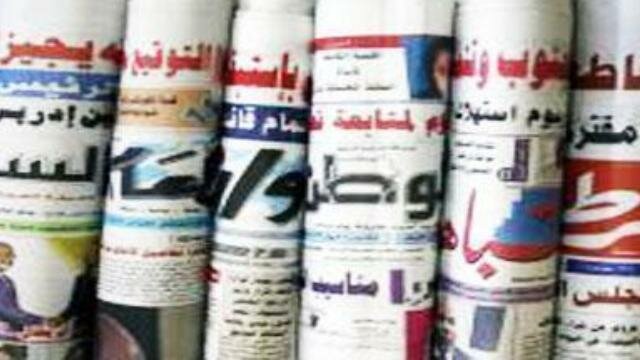 Al-Sudani
*Minister of Defense: We will Collect Weapons from Citizens "Even with Use of Force"
.
* Telecommunication: The Exchange of Information is Fully Responsible for it and we will Apply the Law Strictly.
* First Forgery Case of Electronic Receipt Detected.
*Al Bashir: War is Useless and it Only Stops Development.

Akhir Lahza
* Al Bashir Signs in Kadugli Decree on Return of Nuba Mountains Corporation.
* Five Thousand Attempts for Penetrating the Electronic Revenue Collection System
* Sudanese-Egyptian Talks in Khartoum.
* Salva Kiir to Visit Khartoum during this Month

Assayha
*Central Bank: Telecommunication and Aviation Companies Contributed to Increase of the Rate of the Dollar.
* Al Bashir: Peace in South Kordofan is Our First Issue and War is Useless.
* National Intelligence and Security Service Discloses Trend for Issuance of New Laws for Controlling Foreign Presence.

Al-Ray Al-Aam:
*Al Bashir in South Kordofan: We will Complete Peace.
* Armed Men from South Sudan Commit Aggression on Lands and Prosperities of Citizens in Abu-Gebaiha.
* Governor of South Kordofan: I am Ready to Give up My Post to Al Hillu.
* Defense Minister: We Will Impose the Rule of Law "Even with the Use of Force".

Al-Youm Al-Tali
*Al Bashir Calls for Early Readiness for 2020 Elections.
*Ministry of Minerals Moves to Establish Gold Bourse and Mining Bank.
* Cairo: The Media is Behind Tension in the Relations with Khartoum.
* New Laws and Legislations to Control the Foreign Presence.

Al-Intibaha
*Al-Mahdi Asks for Custom Exemptions for Cars of His Sons.
* Infrastructure Ministry: 30 Areas in the Capital Affected by Water Shortage.
* Direction on Continuation of Exports of Female Camels.

Al-Sahafa
*Security Source: Foreign Networks led by Africans Threaten Security.
*Archbishop of Canterbury: We Endeavor for Lifting Sanctions from Sudan.
* Om Rowaba Locality Experiences Heavy Rains and Thunderstorms.

Almeghar
* Al Bashir Decides in Kadugli Return of Nuba Mountains Agricultural Corporation.
* Ibn Auof: The Popular Leaderships Should Keep the People Away from Slipping into Rebellion.
* Meteorology Authority Forecast Rainfall in Most States.
---
Daily Arabic Newspapers Headlines Wednesday, August 2, 2017

Daily Arabic Newspapers Headlines Monday 31st July, 2017

Next >