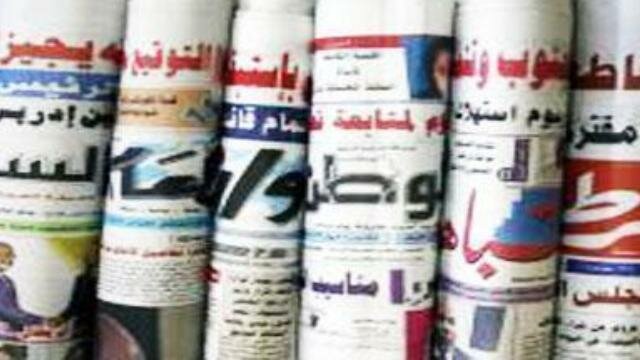 Al-Sudani

* Egyptian Foreign Minister to Arrive  in Khartoum Tomorrow
* State Minister of Information: Sudan Facing Foreign Challenges.
* Government: Arrangements for Anti-Human Trafficking National Conference.
* Human Resources Minister: Changes Abroad Will Force Sudanese to Return.

Akhir Lahza
* Al-Hilu Restructures SPLM-N Delegation Team.
* Ghandour: No Secret Agendas with the US Administration.
* Expectation of Deposits Entrance to Sudan.
* Authorities Reveal Gangs Running Begging Operations in Greater Khartoum.

Al-Ray Al-Aam
* Al Bashir: Christian Institutions Were Not Subject to Any Attack in Sudan Long History.
* Chief Justice Directs Harsh Punishment to Defuse Rumours.
* Ghandour: Sanctions Will Be Lifted If the Devil Is Not There.
* NCP Starts Arrangements for 2020 Elections.

Al-Youm Al-Tali
* 8% Increase in Drugs Prices.
* Finance Ministry Determines the End of November for Computerizations of Salaries and Wages.
* Bilal: The State Is Not Directed by Social Media Outlets.
* MP Reveals Increase in Watery Diarrhea in North Darfur.

Al-Sahafa
* Calls for Muslim Scholars to Take Punitive Measure in Regard to Cybercrimes.
* Ministry Announces Higher Education Admission Results.
* Al-Sadiq Al-Mahdi: Politics Made Me Poor.
* Archbishop of Canterbury: There Is Real Religious Coexistence in Sudan.

Al-Intibaha
* Authorities Arrest Chieftains of Rizeigat and Maalia.
* CBOS Pumps More Dollar to Control Exchange Rate.
* Fierce Clashes between Two Opposition Armed Groups in South Sudan.
* Government Downplays US Court Decision of US$7.2 Billion Compensation.

Akhbar Al-Youm
* Imminent Changes in the NCP Information Bureau.
* Ghandour Accuses Sudanese Citizens of Endevouring to Extend the US Sanctions.
* Government: Chaos in Neighbouring States Encourages Human Trafficking Gangs Activities.
*  Abdulrahim Directs His Ministers to Be Closer to the Citizens.

Assayha
* Citizens Block Port Sudan Highway in Protest Traffic Accidents that Claimed the Life of Child
* Juba: Arrangements for Imminent Visit of Salva Kiir to Khartoum.
* Higher Education: Private Admission to Universities to Start Tomorrow.
* Archbishop of Canterbury Praises Sudan's Dealing with Refugees.
---
Hope for S. Sudanese Refugees Arriving in Darfur

Next >