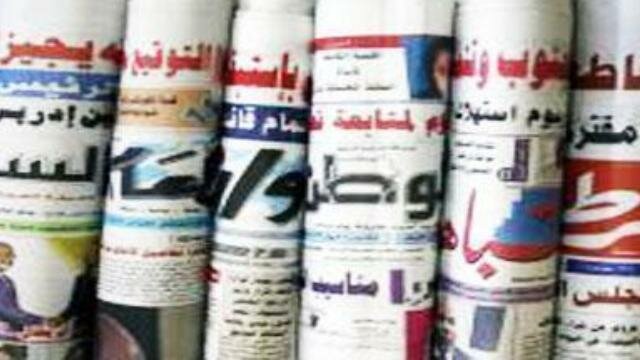 Al-Sudani

* Strict Measures to Control Public Institutions
.
* New Price List for Medicines.
* Al Bashir Calls for Preserving the Development of the Islamic Relief.
* NISS Deputy Director Reveals Increase in Mercenary and Terrorism in the Region

Akhbar Al-Youm
* CBOS Governor Affirms the Stability of Exchange Rate.
* NISS Director Orders the Release of Journalists
* CISSA Dispatches Teams to Niger and Libya on Illegal Migration.
* Petroleum Minister to Construct Depot in Kassala.

Assayha
* Deterioration of Salva Kiir Health Conditions.
* 76 Killed in Clashes in South Sudan.
* Decline in Mortality Rate in Khartoum.
* HAC Reveals the Return of 10 Thousand Refugees from Ethiopia to the Blue Nile.

Al-Youm Al-Tali
* Government Terminate Contracts with All Who Reach 65 Years of Age.
* NISS Calls for Bringing Armed Groups; Leaders to Book.
* 7 Million Persons Facing Famine in Juba.
* Ambassador Abdul Mahmoud: I Will Return to Cairo in the First Week of March.

Al-Mijhar
* NCP Deputy Chairman Visits Dr. Nafie.
* Information Minister: We Don't Shelter Muslim Brothers to Expel them.
* Ghandour Announces Resumption of US Administration in March.
* Al-Jaz: Relations between Sudan and China are Strong.
Al-Ray Al-Aam
* Government to Review the Performance of Government Corporations.
* Bakri: We Urge Armed Groups to Join the Peace Process.
* Ibrahim Mahmoud: I Will Continue as an Element in the NCP.
* New Oil Exploration to Be Revealed Soon.

Al-Intibaha
* Deputy Chief of Staff Addresses Opening Session of Sudanese-Ethiopian Strategic Forum.
* American Universities Participate in Breast Cancer Activities in Sudan.
* UNSC Discusses Deployment of Regional Troops in South Sudan.

Al-Sahafa
* NISS Reveals Involvement of Armed Groups in Human Trafficking.
* Mustafa Osman Complains on the Delay of the Signature of 6 Agreements.
* FVP: We Endeavour to Normalize the Relations with Washington.
* Russian Defence Ministry Honors Sudanese Army Officers.


---
Red Sea Militarization - Caution to Preclude Confrontation

The Sudan Interim Poverty Reduction Strategy Paper (11)

Next >