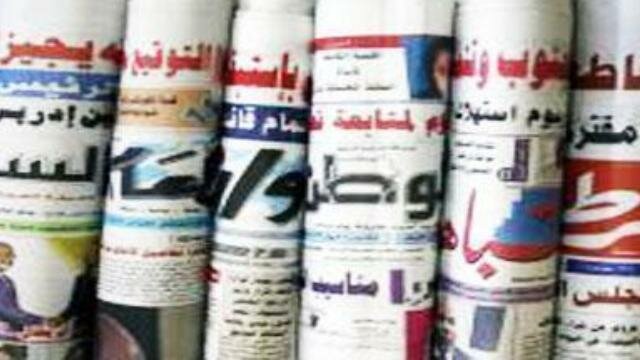 Al-Sudani

* Al Bashir: Not Concerned about 2020, I'll Support Whom the People Elect.
* CBOS Bans Receiving Foreign Currencies by Importers outside the Banking System.
* Finance Ministry: Friendly Country Approves Loans to Purchase Wheat and Fuel.


Akhbar Al-Youm
* NISS Releases Sudanese National Tortured in Libya.
* President Launches Zakat Chamber Projects.
* Rwanda Denies Signing Agreement with Israel to Receive African Refugees Including Sudanese.
* South Kordofan Delegation: Self-determination Is Out of the Framework Agreement Document.

Assayha
* Al Bashir Pledges to Build a Strong Army.
* Trade Ministry Signs US$8 Billion Exportation Contracts.
* Defence Minister Meets Kassala Governor
* EU and USA Intend to Impose Sanctions on Salva and Machar.

Al-Youm Al-Tali
* 110 Migrants Arrive in Italy through Mediterranean in January.
* Juba Summons Its Ambassador in Washington.
* MP Calls for Expanding Consultations over the Economical Crisis.
* New Studies to Assess Levels of Poverty in Sudan.

Al-Mijhar
* Criminal Investigation Reveals Details on the Most Dangerous Crimes
* Sudan and South Sudan Agree on Opening 4 Crossings on Borders this Month.
* Talks between Government and SPLM-N Adjourned.
* Security and Diplomatic Meeting between Egypt and Sudan on Thursday.
Al-Ray Al-Aam
* CBOS Restricts Importation.
* US Company Invests US$200 Million in Sudanese Borders Security.
* MP Calls for Separating Blue Nile Dossier in the Talks.
* Health Ministry Announces the Medicine Monitoring System.

Al-Intibaha
* Government: We Print Currency to Support Fuel.
* Separate Consultative Session Includes Government and Sudan Call.
* Khartoum Announces Hosting 600 Thousand Refugees.
* Darfuri Movements Occupies Southern Part of Libya.


Al-Sahafa
* Al Bashir Pledges to Beat All Corrupt Citizens and Conspirers.
* Presidency Forms Committee to Reduce Diplomatic Missions.
* Defence Minister Affirms the Importance of Coordination among the Security Departments.
* CBOS Accepts Opening Branches of Al-Khaleej Bank in the UAE.
---
The First of Its Kind in Sudan

Next >