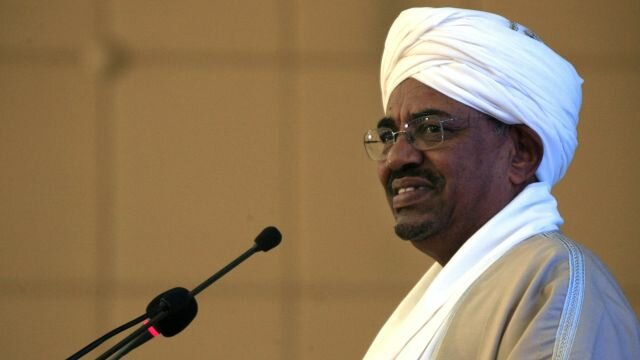 Khartoum- President of the Republic Omar Bashir on Tuesday returned to Khartoum from Addis Ababa, Ethiopia, where he led the Sudan delegation the IGAD Extraordinary
summit meeting called for by Ethiopia prime Minister Haile Mariam Desalign to discuss the situation in South Sudan.
The President was received at the airport by the First Vice President and Federal Prime Minister, Bakri Hassan Salih, and a number Federal Ministers and senior officials.
Dr Abdul Malik Al Birair, Director of the Department for Political Affairs and Media at the Republican Palace told the media upon the return of the delegation that the president briefed the summit on the most recent development in South Sudan and their impact on the Sudan and other neighboring countries.
He said the president said it was imperative to implement the peace agreement signed by the parties in south sudn and that all political forces be involved in the peace process to achieve peace and stability and security in south Sudan.
He said the president has referred to south Sudanese refugees Sudan is hosting and how they are being treated on equal footing as the Sudanese citizens.
He added that the president of the republic has briefed the IGAD leaders about the support being provided by the south Sudan government to rebel elements against the Sudan, threatening security and stability in the country and particularly in Darfur state, as shown by recent aggression in that region of the Sudan.
Brair has meanwhile referred to several meetings held by the President of the republic on the sideline of the summit, including a meeting with the Ethiopian Prime Minister, Haile Mariam Desalign, and another meeting with the Somali Prime minister.
He said in each of those meeting bilateral relations and issues of mutual interests were discussed.
He further pointed to the final communique issued at the end of the summit meeting and which called for the full implementation of the peace agreement signed by the southern parties and also to the fact that the summit has welcomed the National Dialogue initiative as launched by the President of South Sudan, Salva kiir.
---
Haftar Supports Darfur Movements with New Consignment of Advanced Weapons

Female Journalists Ramadan Iftar with the Vice President and His Wife

Next >