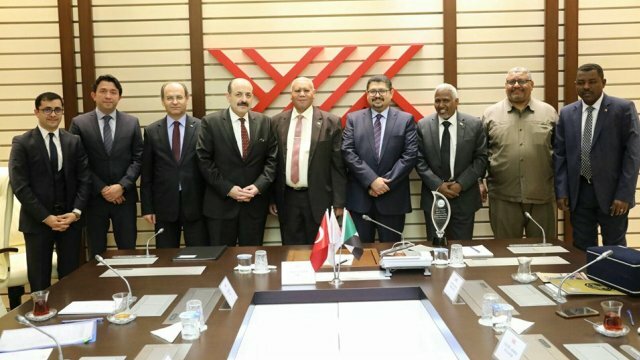 Khartoum - Sudan remains one of the most important partners of Turkey in Africa with long and deep-rooted historical, religious and cultural ties. Reciprocal high level visits
and various cooperation agreements have ensured steady development of bilateral relations in different fields
The goal of strengthening scientific and cooperation between Sudanese and Turkish universities,  to achieve convergence and political understanding a common service for their political and economic strategy, and the establishment of solid and strong relationships in educational fields.
 Turkey, within the framework of Turkey Scholarships, provides scholarships for university education to the students from Sudan
 Sudan and Turkey have agreed on a plan of action in the field of higher education and scientific research between the two countries including the exchange of scholarships, university professors, students and joint research into other fields of education.
 This came during the talks between Sudan-Turkey Technical Committee on Higher Education in Turkey. The meeting discussed a number of the most important issues like teaching of the Turkish language in institutions of higher education, and the establishment of the Sudanese-Turkish university and the strengthening of cultural and scientific cooperation in the field Higher education scientific research and community service, participation in scientific and social seminars and exchange of information and scientific materials, as well as joint research projects and short courses.
 The Sudanese delegation expressed its aspiration for a strategic partnership for the benefit of the Sudanese and Turkish peoples. Prof. Azhari Omar Abdel Baki, undersecretary of the Ministry, stressed the development and uniqueness of the two countries ' relations at the political, economic, cultural and educational levels, stating that the visit is to take the partnership in higher education between the two countries to the ground and to cooperate in the coming period in the field Technology, technical education and energy.
Sudan and Turkey signed a partnership and cooperation agreement in the field of higher education and scientific Research in 2015 and held two forums of the Sudanese and Turkish universities in both Khartoum and Turkey over the past three years, which have led to a strengthening of the relationship between the two countries.
The Sudanese delegation was represented by Dr. Tarek Mohamed Nour, Director of the Directorate General of External Relations, Dr. Murtada Ali Othman, Director of the Executive Ministerial office, and Prof. Osama al-Rais, Director of the African Technological city.
---
Al Bashir Arrives in Addis Ababa to Participate in AU Summit

< Prev

Ghandour Opens Dossier of Relations with His Egyptian Counterpart

Next >