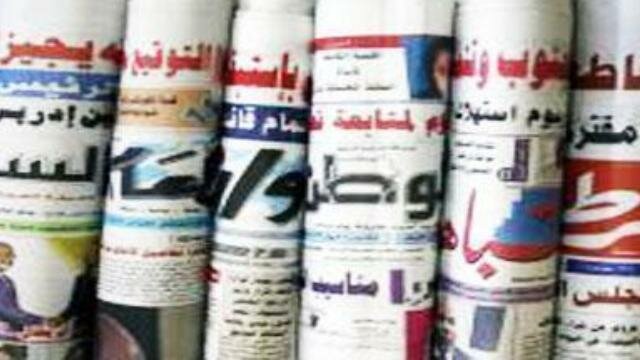 Al-Sudani
* Al Bashir: We Aim at Availing Actual Opportunities for Youth in Political Participation
.
* Al-Tijani Al-Sisi: Sudan Lost Egypt Diplomatically.
* Foreign Ministry Officially Demands Egypt to Reveal the Number of Sudanese Arrested Miners.
* Ali-El-Haj Denies the Resignation of Dr. Ahem Al-Turabu from the PCP.

Akhbar Al-Youm
* Musa Hilal Announces Acceptance of Kadabas Initiative.
* Sudanese/American Meeting in New York to Discuss Relations between Khartoum and Washington.
* Bakri Reviews Arrangement of Sudan's Paticipation in UN General Assembly.
* South Israel Community Rejects the Existence of Abdulwahid Faction Members in their Areas.

Assayha
* Interior Ministry Reduces the Foreigners Residence Violations by 50%.
* Parliamentary Committee Accuses Government of Easing Granting Lands to Investors.
* UN: 2 Million South Sudanese Fled to Neighbouring Countries.
* Ghandour Flies to New York and Brussels.

Al-Youm Al-Tali
* Khartoum and Cairo Agree on Ending Cross Points Crisis.
* Machar Troops Accuses Juba  and SRF of Attacking Fashouda.
* Abu Garda: Health Situations under Control.
* Sudan Elected Member in International Tourism Organization Executive Office.

Akhir Lahza
* Sudanese Bourse Achieves Highest Size of Transactions in Its History.
* New Plan to Activate Monitoring of Medicines.
* Parliament Tends to Investigate the Foreign Mining Companies.
* UNAMID Withdraws from 7 Locations by the End of September.
* Khartoum: Juba Endeavours to Hinder Lifting of US Sanctions on Sudan.
Al-Ray Al-Aam
* New Khartoum Airport Implementation Unit Discusses Cancellation of the Chinese Contractor.
* Al Bashir Affirms Government Support to Youth Activities and Projects.
* 10 African States Participate in Military Drill in Sudan.
* Health Ministry Announces Control of Watery Diarrhea in Jebel Marra.
 
Al-Intibaha
* FVP Directs Health Ministry to Continue  Curbing Watery Diarrhea.
* National Umma Party Closes Dialogue Door with Mubarak Al-Fadil.
* Documents Reveal Egypt Supplying S. Sudan with Weapons and Tanks.
* Tijani Al-Sisi: Lifting Sanctions Doesn't mean Economical Boom.


Al-Sahafa
* New Information of the Cancellation of African/Israeli Summit.
* Al Bashir Affirms Implementation of Youth Forum Recommendations.
* Health Ministry Sends Medicine to Rebel Controlled Areas.
* Khartoum: No Retract from Abyei Protocols.
---
Why a Technocratic Transitional Government in S. Sudan?

MoU between Sudan and China to Establish China-Sudan Technology...

Next >