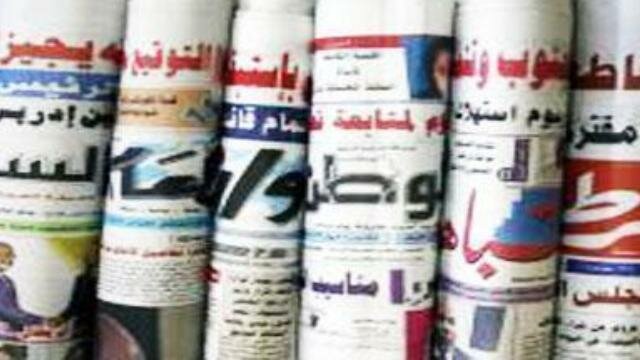 Al-Sudani

* Al Bashir to Visit Ethiopia End January
.
* Geological Research Director Reveals More Information on Meroe Earth Quake.
* Kassala Governor: Closing Borders with Eritrea Aims at Tarnishing the Relations between the Two Countries.


Akhbar Al-Youm
* Family of the Killed Soldier Pardons the Killer Asim Omer.
* Parliament Summons Economical Sector Ministers.
* Nyala Authorities Subject 2500 Vehicles Crossing from Libya to the New Customs Tariff.


Assayha
* Bloody Clashes Near Juba and Tens Killed.
* Egyptian Escalation towards Sudan Decision to Call Its Ambassador to Cairo.
* Unjustifiable Price Hikes, Parliament Holds Close Session on the Issue.

Al-Youm Al-Tali
* Al-Sanousi: Relations with Turkey Is Improving, We Aspire to Make It Strategic.
* Increase in Airplanes Fuel in Khartoum Airport.
* SPLM-IO Attacks Juba.

Al-Mijhar
* Hassabo Threaten to Cut the Hands of those Who Don't Hand their Firearms.
* Hassabo Reveals Breakthrough in Foreign Relations.
* Parliament Questions Ahmed Saad on Selling Sudan's Houses in London.
Al-Ray Al-Aam
* Protests in Gezira State on the Price Hikes of Bread.
* Al Bashir Directs Taking Actions to Stop the Price Hikes.
* FM Welcomes US State Department Statements on Sudan Independence Anniversary.

Al-Intibaha
* Abulgasim Imam: Extension of Ceasefire Paves the Way to Armed Groups to Join the Peace Process.
* Deng Alor Banned for Travelling to Abyei.
* DUP Calls for Reviving Cooperative Societies.

Al-Sahafa
* Kassala Governor: Border with Eretria Are Open.
* VP: We Don't Accept Touching Our Dignity.
* Parliament Summons Investment, Foreign and Cabinet Ministers.
* Trade Ministry Reveals Coordination between the Center and the States to Control the Price Hikes.


---
As Millions Flee South Sudan, How Is Canada Helping?

Next >