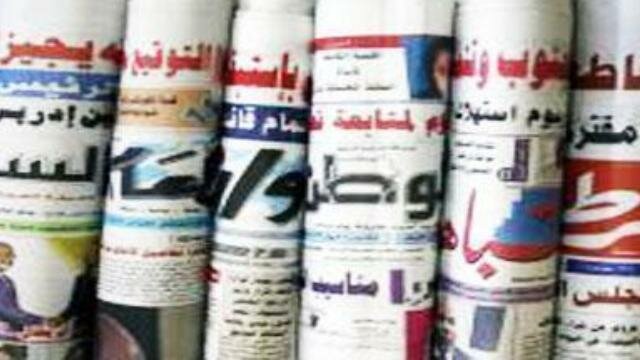 Al-Sudani

* Ethiopia Rejects Egyptian Demand to Exclude Sudan from GERD Negotiations
.
* Government Intervenes to Cancel the Increase in Local Sugar Prices.
* Authorities Abort Gold Smuggling Attempt in Khartoum Airport.
* Her Majesty Queen of Britain Congratulates Sudan on Independence.

Akhbar Al-Youm
* Hassabo: Bar Association Elections Is an Indicator for the Success of 2020 General Elections.
* Finance Minister Holds a Press Conference on 2018 Budget.
* Khartoum State: No Violations during the Independence and New Year Holidays.
* Al-Fadil: National Dialogue Recommendations Outcomes Top Priority.

Assayha
* Washington Tells Kiir Either to Step down or House Arrest.
* Al-Mirghani Calls on Government to Organize an Urgent Conference on Price Hikes.
* RSF: Chaos Stage in Darfur Came to an End.
* Military Official Reveals Ongoing Steps to Modernize Army's Equipment.

Al-Youm Al-Tali
* Chad Deploys More Troops to Protect Sudanese Conventional Miners.
* Iran Demonstration Claim the Lives of 14 Citizens.
* Parliament Listens to Electricity Minister on New Tariff.
* British Government Proves that Halayeb Is a Sudanese Territory.

Al-Mijhar
* Army Affirms Readiness to Abort any Plots.
* International Cooperation Minister Reveals Arrangements for Arab League Conference to Reconstruct Sudan.
* VP to Start Visit to Gezira on Thursday.
* Al Bashir Phones Yemeni President Receives Congratulatory Message from Moroccan Monarch.
Al-Ray Al-Aam
* Central Darfur Collects 6 Thousand Pieces of Firearms.
* Ahmed Bilal: Cairo Gives the Green Light for Its Media to Insult Sudanese.
* CBOS Issues Financial and Monetary Policies for 2018.
* Al Bashir Launches Gezira Train Today.

Al-Intibaha
* Salva Kiir Says He Will Step Down When the War Ends.
* Violence in Southern Refugees in Ugandan Camp.
* Gezira State Announces SDG3.7 Billion Revenues in 2018.
* Authorities Destroy Expired Commodities Seized on the Borders with Egypt.

Al-Sahafa
* Gunmen Kidnaps Machar's Aides in Kenya.
* Umma Party Leading Figure: The New Year will Be for Healing Wounds.
* Joint Political Committee Meets in Juba.
* Parliament Summons Electricity, Health, and Interior Ministers.
---
Make 2018 A Year of Decisive Action

Next >